June 22nd, 2017

The auto industry is changing in ways that favor the U.S. – as long as Mexico and Canada are part of its supply chain.
Ford announced this week that instead of building its new Focus – the best-selling car in the world – in a new $1.6 billion dollar Mexico-based plant, it will ship cars for North American customers from China.
Ford has promised that its decision won't reduce its workforce. Yet even if that is true, American workers will lose. Today the compact Focus uses steel from Wisconsin, axles from Oregon, seatbelts from Indiana, grills from Michigan, tire pressure sensors from Tennessee, front-side shafts from North Carolina and Ohio, and the list goes on. With the shift, these raw materials, parts and components will be sourced and put together in Asia, eliminating dozens of U.S. based suppliers, and likely costing many of their employees their jobs. While assembly was scheduled to move from Michigan to Mexico, that would have ensured ongoing American employment – as over 40 percent of the value of vehicles "made in Mexico" comes from U.S. factory floors and U.S. offices. For products imported from China – as the new Ford Focus will be starting in 2019 – this number is a negligible 4 percent.
Ford made the decision first and foremost for market reasons. China's 28 million vehicle market is the largest in the world. And while U.S. demand for smaller cars has faltered, in China it is growing at a robust 4 percent annually. Already nearly half of the million Ford Focus models sold each year go to Chinese buyers. Importing vehicles isn't an option as the United States doesn't have a free trade agreement with China, so cars coming from abroad face a stifling 25 percent tariff.
Transferring production east will also save Ford significant upfront costs. Rather than sinking more than a billion dollars into a green field operation, it can adjust and expand two existing Chinese plants, making output more nimble in the face of potentially fickle consumer demand.
Further, small cars have always been a challenge for Detroit. With the lower prices come the slimmest of profit margins. General Motors (GM) recently left Europe entirely, selling its operations to PSA Peugeot Citroën, as it couldn't make a go of it in a place not partial to larger pickups and SUVs.
Yet despite these business calculations, until now small cars destined for the North American market were mostly made in North America. One of the reasons has been NAFTA. During the 23-year tenure of the free trade agreement, autos have become one of the region's most integrated sectors, weaving together companies spanning United States, Mexico and Canada into a North America-wide assembly line. A telling statistic: Before NAFTA, U.S. content in Mexican-made cars was roughly 5 percent; today it is over 40 percent.  NAFTA gave car companies and their long chain of suppliers the aggregated benefit of access to talented engineers and scientists, differential labor costs for the high- and low-skill parts of production, a stable legal environment, and zero tariffs.
The ability to leverage the distinct advantages of each country in research and development, production, marketing, and sales helped make North America the dominant continental and global auto player, producing 18 million vehicles a year. This landscape has benefited not just Detroit's Big Three – Ford, GM, and Chrysler – but also attracted investment from BMW, Audi, Nissan, Toyota, Honda, and other international brands, which encouraged hundreds of their preferred suppliers to set up shops and factories across North America's heartlands. As a result, more BMWs are made in Spartanburg, South Carolina than in Munich, Germany, the headquarters for the 60 billion dollar company.
Ford's recent decision reflects the current challenges to this dominance. The economics are shifting, as emerging economies offer both workers and consumers to car companies. So too are the politics: If the tariff free and cross-country production benefits of a combined North America end, then making cars in China or elsewhere makes even more sense.
The questioning of NAFTA comes just as China aspires to build its own global auto footprint. To date, Chinese producers have left the iconic American industry alone, instead working out quality kinks at home and trying to keep up with voracious domestic demand. But over the last five years its local champions have begun aggressively exporting, starting with developing countries including India, Iran, Indonesia and Malaysia. Chinese makers are also investing abroad – in May JAC Motors announced plans to partner with Mexican telecommunications tycoon Carlos Slim on a Hidalgo plant to build vehicles for Mexico and the rest of Latin America.
The auto industry is transforming in ways that potentially play to America's strengths. It is rapidly automating – already using nearly four out of every ten deployed robots in the United States. It is also advancing technologically, developing new lighter materials, electric powered vehicles, and driverless options. But U.S. commercial vehicle dominance depends on regional production, and the benefits of Canadian and Mexican suppliers and assembly. To ensure that future cars and trucks are made here, NAFTA, and the deep production ties linking the three neighbors, needs to stay.
September 8th, 2016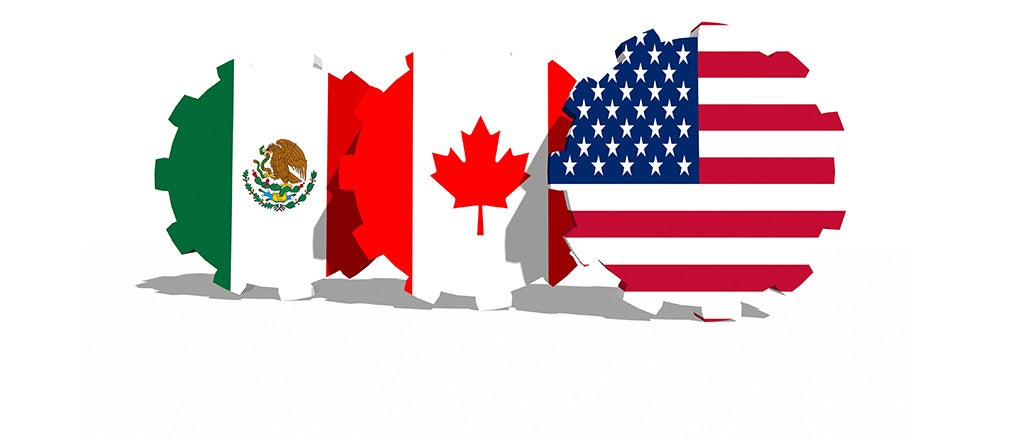 Sep 06, 2016
When President Bill Clinton signed the North American Trade Agreement (NAFTA) in December 1993, he predicted that "NAFTA will tear down trade barriers between our three nations, create the world's largest trade zone, and create 200,000 jobs in [the U.S.] by 1995 alone. The environmental and labor side agreements negotiated by our administration will make this agreement a force for social progress as well as economic growth." Twenty-three years later, scholars and policy makers often disagree about the impact that NAFTA has had on economic growth and job generation in the U.S. That impact, they say, is not always easy to disentangle from other economic, social and political factors that have influenced U.S. growth.
On the positive side, overall trade between the three NAFTA partners — the U.S., Canada and Mexico — has increased sharply over the pact's history, from roughly $290 billion in 1993 to more than $1.1 trillion in 2016. Cross-border investment has also surged during those years, as the stock of U.S. foreign direct investment (FDI) in Mexico rose from $15 billion to more than $107.8 billion in 2014. As for job growth, according to the U.S. Chamber of Commerce, six million U.S. jobs depend on U.S. trade with Mexico, a flow that has been greatly facilitated by NAFTA, which has helped eliminate costly tariff and non-tariff barriers. NAFTA has also facilitated a multi-layered integration of the U.S., Mexican and Canadian supply chains. According to the Wilson Center, twenty-five cents out of every dollar of goods that are imported from Canada to the U.S. is actually "Made in USA" content, as are 40 cents out of every dollar for goods imported into the U.S. from Mexico.
Geronimo Gutierrez, managing director of the North American Development Bank (NADB), notes that trade between the United States and Mexico reached over $500 billion in 2015, a five-fold increase since 1992, when NAFTA negotiations concluded. Thus, he explains, Mexico imports more from the U.S. these days than do all of the so-called BRIC nations combined – Brazil, Russia, India and China. (The NADB acts as a binational catalyst in helping communities along the U.S.-Mexico border develop affordable, long-term infrastructure.)
Gutierrez adds that there are lesser-known benefits of NAFTA. By promoting the tight integration of North American industrial supply chains, "NAFTA is creating partners and not competitors among its member countries. As for Mexico's interest in this bilateral relationship, it can be summarized in two facts: about 80% of Mexico's exports go to the U.S., while 50% of the accumulated foreign direct investment received between 2000 and 2011 comes from the U.S. Moreover, NAFTA has been the fundamental anchor for reforms that make Mexico a more modern economy and open society."
A Modest Impact
For all that, most studies conclude that NAFTA has had only a modest positive impact on U.S. GDP. For example, according to a 2014 report by the Peterson Institute for International Economics (PIIE), the United States has been $127 billion richer each year thanks to "extra" trade growth fostered by NAFTA. For the United States, with its population of 320 million at the time of that study, the pure economic payoff was thus only $400 per person, while per capita GDP was close to $50,000. And while the costs of NAFTA are highly concentrated in specific industries like auto manufacturing — where job losses may be significant for specific firms — the benefits of the trade pact (such as lower prices for imported electronics or clothing) are distributed widely across the U.S., as they are in the case of any trade pact worldwide.
Most studies conclude that NAFTA has had only a modest positive impact on U.S. GDP.
Supporters of NAFTA estimate that some 14 million jobs rely on trade with Canada and Mexico combined, and the nearly 200,000 export-related jobs created annually by NAFTA pay an average salary of 15% to 20% more than the jobs that were lost, according to a PIIE study. Furthermore, the study found that only about 15,000 jobs on net are lost each year due to NAFTA. "On our reckoning, since NAFTA's enactment, fewer than 5% of U.S. workers who have lost jobs from sizable layoffs (such as when large plants close down) can be attributed to rising imports from Mexico," wrote its authors, PIIE senior fellow Gary Clyde Hufbauer and research analyst Cathleen Cimino-Isaacs. For the roughly 200,000 out of 4 million people who lose their jobs annually under these circumstances, the job losses can be attributed to rising imports from Mexico, they wrote, but "almost the same number of new jobs has been created annually by rising U.S. exports to Mexico." Moreover, "For every net job lost in this definition, the gains to the U.S. economy were about $450,000, owing to enhanced productivity of the workforce, a broader range of goods and services, and lower prices at the checkout counter for households."
Trade specialists agree that it has proven difficult to separate the deal's direct effects on trade and investment from other factors, including rapid improvements in technology, expanded trade with other countries such as China and unrelated domestic developments in each of the countries.
Walter Kemmsies, managing director, economist and chief strategist at JLL Ports Airports and Global Infrastructure, notes that that many of the job losses that are popularly blamed on NAFTA would likely have taken place even in the absence of NAFTA, in part because of growing competition from China-based manufacturers, many of which have taken advantage of currency manipulation by the Chinese government that has rendered China-made products more price-competitive in the U.S. Likewise, Mauro Guillen, head of Wharton's Lauder Institute, agrees that without NAFTA, many American jobs that were lost over this period would probably have gone to China or elsewhere. "Perhaps NAFTA accelerated the process, but it did not make a huge difference."
"A lot of instant experts on NAFTA don't really understand trade and what drives trade," said Kemmsies. "And so they get confused between NAFTA and the globalization of the world's economy. The fact is, with or without NAFTA, we would have done a lot more trade with Mexico anyway. I'm not sure that NAFTA has even fostered any growth of trade between the U.S. and Mexico. Look at Mexico and forget about everything else for a second: What is the single-biggest trade-flow corridor in the world? It's East-West — Asia to Europe to North America. Mexico happens to sit right smack in the middle of the East-West trade flow…. Here is Mexico, with 120 million people, and all of these abilities to draw raw materials…. You have a cheap labor force, a global geographic advantage, a rising middle class. It's a good place to make stuff."
For a long time, because of a lack of investment, Mexico's infrastructure was well below par, including its ports, which were made to process raw materials, rather than handle industrial goods. In that respect, NAFTA has had a positive impact on Mexico's economic development, and it has encouraged foreign investors to trust that Mexico, whose governments were long protectionist and populist, would follow the rule of international law. International trade specialists M. Angeles Villarreal and Ian F. Fergusson of the Congressional Research Service wrote in a recent report: "While Mexico's unilateral trade and investment liberalization measures in the 1980s and early 1990s contributed to the increase of U.S. Foreign Direct Investment (FDI) in Mexico, NAFTA provisions on foreign investment may have helped to lock in Mexico's reforms and increase investor confidence [in Mexico.]" Nearly half of total FDI investment in Mexico is in its booming manufacturing sector.
Job Losses and Lower Wages
Some critics argue that NAFTA is to blame for job losses and wage stagnation in the U.S., because competition from Mexican firms has forced many U.S. firms to relocate to Mexico. Between 1993 and 2014, the U.S.-Mexico trade balance swung from a $1.7 billion U.S. surplus to a $54 billion deficit. Economists such as Dean Baker of the Center for Economic and Policy Research and Robert Scott, chief economist at the Economic Policy Institute, argue that the consequent surge of imports from Mexico into the U.S. coincided with the loss of up to 600,000 U.S. jobs over two decades, although they admit that some of that import growth would likely have happened even without NAFTA.
"A lot of instant experts on NAFTA don't really understand trade and what drives trade." –Walter Kemmsies
While conceding that many U.S. high-wage manufacturing jobs were relocated to Mexico, China and other foreign locations as a result of NAFTA, Morris Cohen, Wharton professor of operations and information management, argues that NAFTA has, on balance, been a good thing for the U.S. economy and U.S. corporations. "The sucking sound that Ross Perot predicted did not occur; many jobs were created in Canada and Mexico, and [the resulting] economic activity created a somewhat seamless supply chain — a North American supply chain that allowed North American auto companies to be more profitable and more competitive."
Moreover, in their 2015 study published by Congressional Research Service, Villarreal and Fergusson noted, "The overall economic impact of NAFTA is difficult to measure since trade and investment trends are influenced by numerous other economic variables, such as economic growth, inflation, and currency fluctuations. The agreement may have accelerated the trade liberalization that was already taking place, but many of these changes may have taken place with or without an agreement."
Some of its harshest critics concede that NAFTA should not be held entirely responsible for the recent loss of U.S. industrial jobs. According to Scott of the Economic Policy Institute, "Over the past two decades, currency manipulation by about 20 countries, led by China, has inflated U.S. trade deficits, which [in combination with the lingering effects of the Great Recession] is largely responsible for the loss of more than five million U.S. manufacturing jobs." Scott argues that while NAFTA and other trade deals such as the Trans-Pacific Partnership are bad for American workers, the fundamental problem is not that they are "free trade" pacts, but that they "are designed to create a separate, global set of rules to protect foreign investors and encourage the outsourcing of production from the United States to other countries."
Unlike the earliest generation of "free-trade agreements" – which focused on reducing or eliminating tariffs and duties that stifled trade — these newer pacts are more comprehensive. As Scott explains, they "contain 30 or more chapters providing special protections for foreign investors; extending patents and copyrights; privatizing markets for public services such as education, health, and public utilities; and 'harmonizing' regulations in ways that limit or prevent governments from protecting the public health or environment." When critics of the TPP conflate their criticism of that pact with their criticism of "free trade," they miss an essential element of the TPP that has disaffected many otherwise loyal supporters of earlier-generation agreements that truly focus on deregulation of "trade" per se, he notes.
The Role of China
Two decades ago, when NAFTA was born, China had only a faint presence in the global economy, and was not yet even a member of the World Trade Organization. However, the share of U.S. spending on Chinese goods rose nearly eight-fold between 1991 and 2007. By 2015, U.S. trade in goods and services with China totaled $659 billion— with the U.S. importing $336 billion more than it exported. China has become the U.S.'s top trading partner for goods — a development never anticipated at the signing of NAFTA. And yet, NAFTA continues to attract the lion's share of the blame among U.S. critics of globalization, despite the fact that the U.S. and China have yet to sign any bilateral free-trade treaty.
"NAFTA did foster greater U.S.-Mexican integration and helped transform Mexico into a major exporter of manufactured goods." –Robert Blecker
How is that possible? In a recent study that de-emphasized the impact of NAFTA on the U.S. economy, economists David Autor (MIT), David Dorn (University of Zurich) and Gordon Hanson (University of California, San Diego) stress the role of China's emergence on job growth and wages in the U.S. In the study, published by the National Bureau of Economic Research, they write: "China's emergence as a great economic power has induced an epochal shift in patterns of world trade. Simultaneously, it has challenged much of the received empirical wisdom about how labor markets adjust to trade shocks. Alongside the heralded consumer benefits of expanded trade are substantial adjustment costs and distributional consequences…. Exposed workers experience greater job churning and reduced lifetime income. At the national level, employment has fallen in U.S. industries more exposed to import competition, as expected, but offsetting employment gains in other industries have yet to materialize. Better understanding when and where trade is costly, and how and why it may be beneficial, are key items on the research agenda for trade and labor economists."
As Robert Blecker, an economist at American University, notes, "Contrary to the promises of the leaders who promoted it, NAFTA did not make Mexico converge to the United States in per capita income, nor did it solve Mexico's employment problems or stem the flow of migration." However, "NAFTA did foster greater U.S.-Mexican integration and helped transform Mexico into a major exporter of manufactured goods."
The benefits for the Mexican economy were attenuated, however, by heavy dependence on imported intermediate inputs in export production, as well as by Chinese competition in the U.S. market and domestically. The long-run increase in manufacturing employment in Mexico (about 400,000 jobs) was small and disappointing, while U.S. manufacturing plummeted by 5 million — but more because of Chinese imports than imports from Mexico. In both Mexico and the United States, real wages have stagnated while productivity has continued to increase, leading to higher profit shares and a tendency toward greater inequality."
Blaming NAFTA for all of these disturbing problems may make some NAFTA critics feel good, but as trade researchers have learned in recent years, the growing complexity of today's economic challenges defies any simplistic explanations.
August 27th, 2016
Factories south of the border are fueled by American goods and services
REPORTING FROM SAN LUIS POTOSÍ, MEXICO
Enrique Zarate, 19, had spent just a year in college when he landed an apprenticeship at a new BMW facility in San Luis Potosí, Mexico. If he performs well, in a year he'll win a well-paid position, with benefits, working with robots at the company's newest plant.
Within a decade or so, most of the BMW 3 series cars that Americans buy will probably come from Mexico, built by people like Zarate.
"When you start with such little experience, and get such a big salary, it's unbelievable," says Zarate, whose father is a taxi driver and whose mother is a housewife.
Mexico is in the throes of a manufacturing boom.
Exports from Mexican factories have jumped 13% since 2012. The country already ranks as the seventh-largest producer of cars in the world, and Chrysler, Honda and Volkswagen have major operations there. Over the next five years, another wave of big automakers, including Ford, Audi and Toyota, plan to bring new plants online.
And it's not just cars. Bombardier, Cessna and Hawker Beechcraft have opened aircraft assembly lines in Queretaro and Chihuahua, Mexico. Plastics and iron and steel exports have steadily risen.
In the process, workers like Zarate are being lifted into the middle class by the thousands.
That sounds like an exported version of the American dream, circa 1965, in places such as Dearborn, Mich., or Marysville, Ohio. Indeed, the influx of those types of jobs to Mexico has enraged Ford employees in Wayne, Mich., and the makers of furnaces in Indianapolis.
Donald Trump called the North American Free Trade Agreement "the worst trade deal in history." Bernie Sanders said that an American company moving to Mexico is "the kind of corporate behavior that is destroying the middle class." Even Hillary Clinton, who once praised the pact with Mexico, has expressed increasing skepticism about trade deals.
But despite what you might have heard on the presidential campaign trail, Mexico's manufacturing surge has not been an unalloyed disaster for American workers.
U.S. manufacturing production, it turns out, is rising as well. Factory output has nearly reached its all-time high this year, and is up more than 30% since 2009.
Partly thanks to automation, factory jobs are still way off from their peak of more than 19 million in 1979. But they have been climbing slowly since the end of the Great Recession in 2009. Over the last six years, U.S. manufacturers hired 744,000 new workers, an uptick of 6%.
The bottom line, say economists and company executives, is that what's good for Mexico's factory workers is good for some U.S. workers too.
That's because the chain of goods that supplies Mexico's factories is very different from the one for China. Simply put, Mexico needs to consume a chunk of U.S. goods in order to make its own.
Around 40 cents of every dollar that the United States imports from Mexico comes from the U.S., compared with just 4 cents of every dollar in Chinese imports, according to the Woodrow Wilson Center. The influx of auto factories in Mexico might sustain hundreds of supplier jobs in Deforest, Wis., or Calhoun, Ga.
"Instead of thinking of Mexico as a separate part of production, it's now part of our manufacturing process," said Raymond Robertson, an economist at Texas A&M University. "Mexican companies aren't just producing products that rival ours, they are producing parts of our products."
The evolution of factory work in the United States, Mexico and China is illustrated by Evco Plastics, a family-owned, Wisconsin-based plastics maker.
Dale Evans, the owner of Evco Plastics, is not ashamed to admit that recently he's been hiring more people in Mexico than in Wisconsin — or Dongguan, China.
In the last two years, Evco has added 100 people to its three Mexican plants, and has been hiring more slowly in its five U.S. facilities. Meanwhile, the company is shrinking two Chinese plants into one.
But Evans says that being able to give clients the option of getting their plastic parts made in Mexico more cheaply has allowed him to move much of his 500-member staff in Wisconsin and Georgia to higher-skilled tasks, such as programming robots.
"The easy things — people picking things up and putting them in boxes — that [work] left," said Evans. It's too expensive for him to employ rote manual laborers in America.
He has instead invested in training his employees to maintain huge, potentially dangerous robots handling plastic parts. "The difficult things you can do with machinery, that stayed."
The shift is driven in part by labor costs.
Evans says he used to pay Chinese workers $1 an hour, but now pays them closer to $3 per hour. In Mexico, he says, he now pays a typical plastics assembler around $4 per hour, which is just a dollar more than what he paid when he first set up shop there in 2001.
"It's just gotten cheaper in Mexico," Evans said.
One of the workers who has benefited is Tania Berenice Salazar, a 25-year-old from Monterrey. The single mom was working as a cashier earning about $1.60 per hour before she got an entry-level job packing up plastic materials at Evco in 2012.
Now she supervises other packagers and makes about $1.80 per hour, even as the peso has plummeted. That's significantly above the minimum wage in Mexico of around $4 per day.
"I feel that this is a step forward. I am rising, I am not stuck," Salazar said.
As she spoke, two nearby plastic injection robots were loudly stamping out pieces of dashboards for Mexican-made Kia sedans and lamp fixtures. The drab Evco factory floor in Monterrey sounds like the inside of a washing machine.
U.S.-supplied raw materials account for 60% of the cost of the plastic incubators and ATV parts the company makes in Mexico. For Evco's China plant, the figure is just 15%.
Evco's experience supports the findings of several studies on the effects of NAFTA, which 22 years ago loosened barriers to trade among the U.S., Mexico and Canada.
Whereas China's prowess in electronics and textiles appears to have made a lasting dent on U.S. manufacturing — costing up to 2.4 million jobs from 1999 to 2011, according to one study — trade flows with Mexico have been more balanced.
Multinational manufacturing companies hire an extra 250 U.S. workers for every 100 employees they bring on in Mexico, according to a 2014 study by researchers at the Peterson Institute for International Economics, a nonpartisan organization.
Dean Baker, the co-director of the left-leaning Center for Economic and Policy Research, was an early critic of NAFTA and continues to believe that "it put downward pressure on manufacturing wages" in America.
Still, he acknowledges that the pact had benefits, at least for U.S. corporations.
"It helped the competitive position of our automakers," he said. NAFTA was "bad, but not as bad for U.S. workers as China."
None of that research is any comfort to Frank Staples, who will lose his gig supervising an assembly line when Carrier moves 1,400 furnace-manufacturing jobs from Indianapolis to Monterrey, Mexico, by 2018.
Staples, who has worked at the company for 11 years, blames the move on "corporate greed."
"I think NAFTA was one of the biggest screw-ups that has ever been put in place," he said.
The 37-year-old father of three has been working with his hands — in demolition, then in warehouses, and now at Carrier's factory — since graduating high school two decades ago. Now, for the first time, he's genuinely worried about how he'll support his family.
Staples said that anyone who says trade comes with more pros than cons has no idea what it's like to be on the losing side of that equation.
"People can say what they want to say [about trade], but they aren't experiencing it firsthand," Staples said.
United Technologies, which owns Carrier, says the move reflects "the steady migration of the company's competitors and suppliers to Mexico, as well as ongoing cost and pricing pressures driven in part by evolving regulatory requirements." The company said it would pay for four years of traditional or technical education for laid-off employees.
The trade pact hit low-skill factory jobs hardest. Many garment manufacturers deserted Los Angeles for border maquiladoras in the 1980s and '90s. Starting in the 2000s, though, some aircraft builders and carmakers, which were already firing up plants in the U.S. Southeast, followed in earnest.
Today, the United States has a $67-billion trade deficit with Mexico in cars and car parts, according to the National Assn. of Manufacturers.
There are no firm estimates on the total number of jobs that have migrated to Mexico. One study, from a liberal think tank funded by unions, found that a total of 851,700 positions were lost to Mexico in the wake of NAFTA. But several other nonpartisan reports have found that after factoring in jobs created by increased trade, the pact had little to no effect at all on employment.
Some factory work is returning to the United States, but jobs aren't necessarily following. New generations of robots can do the work faster and more precisely than humans can.
Even in Mexico, with its lower labor costs, machines are replacing people.
At a new Kia factory in Nuevo Leon, Mexico, robots dominate the vast production spaces where the skeletons of Forte compacts take shape. The facility occupies an expanse of arid land that would comfortably accommodate three plants the size of Tesla's main hub in Fremont, Calif.
In a welding area at the center of the assembly line, more than 300 automated machines work in concert with one another to fuse sedan doors to roofs and attach trunks to bumpers.
The towering robots are fenced off in playpen-like areas; workers rarely interact with them.
Even when people are using their hands to, say, install a car hood, they are actually just guiding a machine holding the steel to the front of the car and pushing it forward until the piece slots in.
"It's so he doesn't tire his back," explained Victor Aleman, a spokesperson for Kia, watching as a welder pushed a massive machine toward the shell of a future Forte. Going forward, virtually all of the Forte sedans and hatchbacks purchased in the United States will be produced at this plant in Mexico, Kia said.
"We are really happy because these workers don't complain," Aleman said, gesturing toward a sea of yellow robots that help this Kia facility produce a car every 54 seconds.
A Mexican autoworker at the Kia plant earns $3.75 per hour, the company said. A typical auto manufacturer in the United States makes about $40 per hour, according to data from the Bureau of Labor Statistics.
But cheap labor south of the border hasn't derailed Bernie Degenhardt's career.
The father of two started working at Evco Plastics headquarters in Deforest, Wis., in 1986, when he was a sophomore in high school. He never left.
Degenhardt began as a machine operator, making about $5.50 an hour plucking plastic parts from an injection molding machine. He quickly realized that the influx of robots onto the factory's floor might pose a threat.
"You want to be managing the new automation and technology, and not worried about 'something is going to take my job away,'" Degenhardt says. So he got an associate degree in electronics, and then in 2006, a bachelor's in mechanical engineering.
Today, Degenhardt earns around $120,000 per year as the plant's automation manager, supervising about 20 people.
At Evco's Wisconsin plants, robots do the work Degenhardt once did, pulling just-made plastic from its mold.
"The robots do my [old] job, and I am managing people that manage them," he says.
January 26th, 2016
Originally Published: June 07, 2015 8:00 AM   Modified: June 12, 2015 9:26 AM
Mexico auto boom a boon for local suppliers
Hollingsworth Logistics Group LLC, a Dearborn-based automotive transportation and assembly supplier, plans for sales in Mexico to be a quarter of its business by 2025.
That's an ambitious target, considering none of the company's $400 million in revenue in 2014 came from that nation.
But Hollingsworth isn't alone, as Southeast Michigan's lower-tiered supply base is again heading south — 20 years after the North American Free Trade Agreementbroke business barriers further open between the U.S. and Mexico.
In what local experts are calling the new automotive gold rush, automakers such asNissan Motor Co. and Mazda Motor Corp. are producing a record number of vehicles in Mexico, most of them destined for export.
Since 2012, carmakers have invested or promised nearly $23 billion in new production in Mexico. In April, Toyota Motor Corp. announced it would spend about $1 billion on its first car factory in Mexico, with the capacity to assemble about 200,000 Corolla compact cars annually, Bloomberg News reported.
The result is a need for a more cohesive supply chain that extends farther down the tiered system, including assemblers and distributors such as Hollingsworth.
"Mexico is booming, and what we see trending is phenomenal opportunities for us," said Greg Martinez Jr., director of international sales for Hollingsworth. "It's key for our sustainability. If we, and others, don't make those business expansions down there, the marketplace will become much smaller."
Rapid expansion
Hollingsworth — minority-owned and controlled by Stephen Barr, who is of American Indian decent — is bidding on four programs in Mexico for distribution services and commodity management for FCA US LLC, Ford Motor Co. and Bombardier Inc., Martinez said.
Mike Wall, director of automotive analysis for Southfield-based IHS Automotive Inc., said that the tier structure in Mexico is "vastly underdeveloped" but that the projected volume coming out of the country is forcing automakers and suppliers to ensure their chain is more robust.
"The volumes are there, and as more automakers go down to Mexico, an infrastructure is being created that can support more suppliers down the line," Wall said. "New plants are coming on board in the next few years, and they are already quoting that business.
"The reality is, if you want that business, you've got to be down there because automakers aren't looking for parts to be shipped in anymore."
Automakers in Mexico produced 3.2 million vehicles in 2014, surpassing Brazil's 3.1 million to become the seventh-largest producer of vehicles. China and the U.S. remain the largest producers of cars in the world.
Production in Mexico is projected to top 4 million in 2017, according to IHS, as it gets closer to the country's plans to reach 5 million units by 2020. This would move them ahead of India and South Korea in production.
Labor costs
Low labor costs and favorable trade agreements with more than 45 countries make Mexico an attractive location for Southeast Michigan suppliers looking for global expansion.
An average unskilled laborer in Mexico costs $8 an hour, including wages and benefits, according to data from the Ann Arbor-basedCenter for Automotive Research. Comparatively, similar workers for General Motors Co. cost $58 an hour.
Although cheap labor is a benefit, Wall said, labor rates will rise.
"I don't think the move to Mexico is just a labor solution; it's not the endgame," he said. "Just as labor cost is rising in China, the whole labor cost benefit in Mexico will turn on its head eventually."
Alejandro Rodriguez, country manager for Southfield-based Plante & Moran PLLC in Monterrey, Mexico, said constraints on the labor force will occur as the need for skilled workers and engineers rises.
"There's already more demand than supply for the highly skilled workers," Rodriguez said. "It's a complete misconception that labor is inexpensive overall. … There's a huge gap between skilled and unskilled labor."
For instance, suppliers and automakers are likely to pay more for a plant manager in Mexico than in the U.S., Rodriguez said, because fewer people are qualified for those positions in Mexico. That creates demand that raises pay.
The next labor challenge in Mexico will be retaining talent — a familiar challenge to Southeast Michigan suppliers, Rodriquez said.
"You can't manage your operations in Mexico with just expats; you must build a culture there," Rodriquez said. "Not everything is about money for Mexicans. They want to feel part of something larger, just like their American counterparts."
While issues with labor are bound to crop up, it's Mexico's expansive trade agreements with more than 40 countries that have driven the global auto industry into the country, experts said.
Mexico's strong agreements allow exporters duty-free access to markets that contain 60 percent of the world's economic output,The Wall Street Journal reported this year.
Automotive exports from Mexico this year are projected to rise to a record 2.9 million vehicles, more than 87 percent of its projected production, according to the Mexican Automobile Industry Association. As much as 70 percent of those exports are projected to be going to the U.S.
For Hollingsworth, exporting isn't one of its options, but the increased exports from Mexico are a welcome catalyst to its own growth.
"Customers are looking for suppliers that can deliver their services on an international level," Martinez said. "If we're not down there as soon as possible, we're not going to be able to compete long term."
January 25th, 2016
Mexico has long had a privileged position in Latin America. Its proximity to the United States — the largest consumer economy in the world — has contributed to the growth of a robust domestic manufacturing industry, which has become the bedrock of the Mexican economy. Manufacturing has made Mexico the third-largest U.S. trading partner and has propelled its economy to the rank of second-largest in Latin America. Still, as in all oil-producing countries, the drop in global oil prices will hurt the country's financial position, possibly jeopardizing its security reforms. But overall, the country will manage the price drop relatively well.
Despite low growth compared with previous years, Mexico will continue to make economic progress and will lead in regional manufacturing for the foreseeable future, largely because of its close economic ties to the United States. Nearly 80 percent of Mexican exports are destined for U.S. markets, and almost half of these exports are higher-value products, such as vehicles and electronic goods. Manufacturing growth is sustained by rising natural gas flows from the United States, which have propelled the rapid expansion of Mexico's electric grid by making energy availability more reliable.
Unsurprisingly, the commercial linkages created between the two countries over the decades, particularly since the passage of the North American Free Trade Agreement in 1994, have also accelerated capital flows into the country. Mexico received about $28.5 billion in foreign direct investment in 2015. The same year, remittances from Mexican nationals working in the United States totaled nearly $22 billion — the most since 2009. During the current Mexican president's term, the country has also opened additional avenues for foreign investment into sectors formerly closed to large inflows of foreign capital, and it has made major changes to its regulatory regime in the hydrocarbons and electricity sectors to break state monopolies, many of which have become costly and uncompetitive.
Overall, Mexico's next few years will be quite bright. Its economy will continue benefiting from foreign investment to fund manufacturing initiatives to supply the U.S. domestic market. The growing energy trade between the United States and Mexico will also ensure secure electricity supply that will further drive manufacturing growth. Still, security concerns will persist as funding for anti-crime measures becomes less reliable.
October 5th, 2015
The emergence of the electronics manufacturing services (EMS) sector has been wonderful to watch. The bigger impact, though, has been on the supply chain as these business trends have created what I see as one of the best supply chains in the world.
The electronics manufacturing services (EMS) industry took globalization and ran with it.  The largest EMS companies built massive campus facilities in Asia, chasing low labour costs and rationalizing the supply chain as they went.  Asia wasn't the only destination for lower cost manufacturing: Mexico, Brazil and Eastern Europe with their large pools of skilled labor and proximity to the world's largest consumer markets were also the targets for development.
The next major influence on the EMS was a negative one. During the tech-wreck (aka the dotcom boom and bust of 2000) and subsequent downturns, the EMS industry was in a position of substantial over capacity and when the supply and demand pendulum swings heavily against you the only way to survive is to be the best you can be, the most competitive you can be and the most reliable you can be.  This turmoil in the market toughened the industry beyond recognition, improving systems and controls and forcing yet more soul searching into how they could simply do things better.  Better than before, but more importantly better than everyone else
The line between cooperation & competition
Competition is a wonderful thing and doubtless if you live in a big city you know that the area with the most restaurants is generally the area with the best restaurants.  The EMS industry not only developed itself into a very sophisticated industry with many global multi billion dollar players, but it also built a quite superb supply chain around it.
One of the most notable impacts I saw in my career was when the industry entered new geographies.  I remember some of the early campuses being built in Asia, Mexico, Poland, Hungary and Romania and the impact they had.  One of the largest projects I was lucky enough to be involved in was shaping the campus in Guadalajara, Mexico, for Flextronics (now called Flex). When we arrived, SCI  (now called Sanmina) had been there for sometime, but there was little critical mass in the supply chain.  In the time we arrived, several other large contract manufacturers, such as Jabil and Solectron (now a part of Flex), also invested heavily in the city and the whole process taught me so much about how an industry can develop. The arrival of three of four largest contract manufacturers in the world in the summer of 1996 changed Guadalajara and its supply chain forever, with suppliers beating a path to our door.
EMS companies cannot survive in isolation and by recognizing that we needed a strong vendor community we were able to grow in the region more rapidly than if we tried to do everything ourselves.  Rather than build factories, we built a campus with a strip mall of units that could be rented out to the vendors that we and other EMS companies needed around us, including sheet metalwork companies, moulders, and shipping companies.  We worked with the local suppliers to turn them into the vendors we needed.  In addition, we built the infrastructure the area needed to be a serious manufacturing region.
When the EMS industry comes to town there's a lot to be gained for the local suppliers of sheet metal and plastic moulding, the logistics industry, and even the basics services like catering, cleaning, and housing.  And I don't think the local tequila industry suffered much either.
The standards of global brands come with the industry that supplies it, and those that embraced it rode a wave of business growth and development rarely witnessed.  More importantly, smart EMS companies worked with the local incumbent vendors to make them the best they could be, sharing experience, and knowledge and helping install systems and traceability.
I firmly believe we made the industry in the area more efficient, more skilled, more compliant, more creative, and more profitable.  This level of cooperation between competitors to build the right supply chain was possible because we never thought about how to slice the pie, to us it was always about how many pies can we can collectively bake!
At Riverwood, we spend a lot of time with vendors up and down the supply chain and it doesn't take long to learn that there's more to be gained in making a vendor better than switching every time you see something you don't like.  Our founder Ron Keith often says "EMS suppliers are like wives, if you've had more than three or four, it's probably you."
The upshot is that during my short thirty years in the industry, I believe I witnessed the EMS sector has built the sort of supply chain that should be the envy of all.
The EMS industry has never been shy and retiring, growth has always been its goal.  Running huge complex businesses with global workforces and complex supply chains is bread and butter to the larger players, and there are clearly industries adjacent to EMS that could, and probably will, benefit from the supply chain and operational excellence on show.
An obvious example is the textile or apparel industry, which, with the advent of wearable, is bumping into EMS more frequently than ever.  They can learn plenty from the EMS industry and I suspect that given the EMS companies' desire for growth and dominance of this sector they will be the subject of JVs, mergers and acquisition in the coming months and years.
Other industries too, such as food, construction and infrastructure can learn from the experiences of the EMS sector.  Lessons around sourcing, manufacturing excellence, traceability, compliance, corporate and social responsibility, environmental impact, globalization and internationalism, mass industrialization, integrated supply chains, vendor development, skills and workforce development have all been learned from successes, failures, perspiration and occasionally inspiration.
The EMS industry isn't done developing; the next challenge is automation and Internet of Manufacturing (IoM).  Big data will not only change the way we buy and receive products but also the way it's manufactured and fulfilled.
The industry isn't perfect, and it's only thirty or forty years old, but I'm proud of it and when it comes to taking a product idea, no matter how complicated, and delivering it to millions of people in dozens of countries, nobody does it better.
November 20th, 2013
November 18, 2013
GUANAJUATO, Mexico — A decade ago, Ivan Zamora, 23, might have already left for the United States. Instead, he graduated in May from a gleaming new university here, then moved on to an engineering internship at one of the many multinational companies just beyond the campus gates.
His days now begin at dawn inside the new Volkswagen factory a short walk away, and when he leaves at night, he joins a rush of the upwardly mobile — from the cavernous new Pirelli plant next door, an array of Japanese car-parts suppliers and a new Nivea plant on a grassy hillside.
"There's just a lot more opportunity to study and to succeed," Mr. Zamora said at the factory, surrounded by robots, steel, glass and young technicians. "Both my parents are teachers. They lived in an entirely different era."
Education. More sophisticated work. Higher pay. This is the development formula Mexico has been seeking for decades. But after the free-market wave of the 1990s failed to produce much more than low-skilled factory work, Mexico is finally attracting the higher-end industries that experts say could lead to lasting prosperity. Here, in a mostly poor state long known as one of the country's main sources of illegal immigrants to the United States, a new Mexico has begun to emerge.
Dozens of foreign companies are investing, filling in new industrial parks along the highways. Middle-class housing is popping up in former watermelon fields, and new universities are waving in classes of students eager to study engineering, aeronautics and biotechnology, signaling a growing confidence in Mexico's economic future and what many see as the imported meritocracy of international business. In a country where connections and corruption are still common tools of enrichment, many people here are beginning to believe they can get ahead through study and hard work.
Mr. Zamora's new job, for example (he was hired by VW at summer's end), started with his parents prioritizing education, not emigration, and scrimping to give him a computer and, more recently, German lessons. The state of Guanajuato added to their investment by building the affordable polytechnic — part of a public university system that offers technical degrees as well as undergraduate and graduate degrees — and a sprawling interior port to lure the international companies that hire its graduates. And now Mr. Zamora has a job that pays enough to help his sister pursue her dream of studying marine biology.
This is a Mexico far different from the popular American conception: it is neither the grinding, low-skilled assembly work at maquiladoras, the multinational factories near the border, nor the ugliness of drug cartels. But the question many experts and officials are asking is whether Mexico as a whole can keep up with the rising demand for educated labor — and overcome concerns about crime and corruption — to propel its 112 million people into the club of developed nations.
"We are at something of a turning point," said Eric Verhoogen, a professor of economics and international affairs at Columbia University. "The maquila strategy has been revealed not to have been successful, so people are looking around for something new."
The automotive industry has been Mexico's brightest spot so far. In many ways, central Mexico has already surpassed Detroit. There are now more auto-industry jobs in Mexico than in the entire American Midwest. At least 100,000 jobs have been added in Mexico since 2010, according to a recent Brookings Institution report, and General Motors, Ford, Chrysler, Honda, Mazda, Nissan, Audi and Volkswagen have all announced expansion plans, with nearly $10 billion to be invested over the next several years, mainly in a 400-mile corridor from Puebla to Aguascalientes.
The work tends to be better paid than what could be found in the area before the companies arrived. It is still a fraction of the salaries of American workers — many employees on the factory floors in the interior port make around $3.65 an hour — but higher-paid professionals make up about 30 percent of the employees at many auto plants here, roughly twice as much as in the maquiladoras near the border.
And although robotics and other changes have kept overall employment in the industry somewhat limited, more of the industry has moved to Mexico as the car business has recovered. Around 40 percent of all auto-industry jobs in North America are in Mexico, up from 27 percent in 2000 (the Midwest has about 30 percent), and experts say the growth is accelerating, especially in Guanajuato, where state officials have been increasing incentives.
The 2,600-acre interior port, for example, has become a draw because, in addition to the polytechnic, the state built customs facilities, a railroad depot and a link to the local airport. Guanajuato also helps find candidates for companies to hire and, in some cases, gives them free classes to help them pass standardized tests required for employment. At Volkswagen, many of the young men and women flowing in and out of test-taking sessions said they benefited from the assistance.
Guanajuato even pays companies a small bonus for sending workers abroad for training. Mauricio Martínez, 29, an engineer at the Italian tiremaker Pirelli, which was one of the first companies to take up residence in the port, said he and his wife, Mariana, still saw their trip to Prague after his training in Romania as a fairy tale.
"I'm a small-town guy," he said one day after work, in his kitchen with a beer. "But there I was; an Italian company from Milan hired a small-town guy from Mexico."
He said he now makes $2,250 a month ($27,000 a year), far more than at his old job at a tow-truck company and roughly double the median household income nationwide. That's more than enough for a middle-class life here. Both husband and wife drive to work, and this year they bought a three-bedroom townhouse in a new development for about $80,000. On a recent visit, "The Big Bang Theory" played on their flat-screen TV as a neighbor watered her patch of lawn no bigger than a beach towel.
While cooking dinner, Mrs. Martínez said that her husband's job had given them the credit and stability they needed to start her own business — a gourmet salad shop in a colonial village nearby. And as is common in other countries with an expanding middle class, such as Brazil, their economic rise has led to demands for better government.
When someone recently stole Mrs. Martínez's cellphone, she said she went straight to the police over the objections of her father, who warned her nothing would be done. "He was right," she said. "But next time it happens, I want my complaint to be there. I'm trying to make a living here, and I want a legal life."
"My generation, we're more prepared," she added. "My parents, they never even finished school; we know if something is going to change, it has to start with us."
Many young, middle-class Mexicans are coming to similar realizations, propelled by 13 years of democracy and the Internet. But their ranks are small. As the auto industry rebounds and wage inflation in China makes Mexico more attractive for global manufacturers, many foreign employers say that skilled employees are harder to find and keep, while the mass of Mexican workers do not measure up to what many companies need.
Only 36 percent of Mexicans between 25 and 64 have earned the equivalent of a high school degree, according to the Organization for Economic Cooperation and Development. Despite a rapid rise in foreign investment, with 2013 shaping up to be Mexico's best year on record, the country is still struggling.
The Mexican economy has slowed significantly this year, and even when it was doing better, the nation's poverty rate fell only 0.6 percent to 53.3 million people — roughly 45 percent of the population — between 2010 and 2012. Crime and a notoriously weak justice system continue to undermine the economy, with Mexico's minister of health recently estimating that it costs 8 to 15 percent of the country's annual gross domestic product. "It's all the stuff we hear about again and again: Mexico has an education system that is not on par with its peers; a banking system that's not lending; it has rule-of-law issues and public-security issues and corruption being a huge issue," said Christopher Wilson, an economics scholar at the Woodrow Wilson International Center for Scholars in Washington. "The list goes on and on."
Many economists and business consultants are keeping a close watch on President Enrique Peña Nieto's efforts to improve education, open the energy sector to private investment and overhaul taxes.
Kevin P. Gallagher, an economist at Boston University, said Mexico also needed to prioritize innovation. "South Korea and Taiwan spend over 2 percent of G.D.P. on research and development; China spends almost 2 percent," he said. "Mexico spends 0.4 percent."
But on a smaller scale in Guanajuato, individual success is creating a sense of possibility. Some of Mr. Zamora's friends are studying German, too, hoping to land work at Volkswagen, and a similar sense of momentum pervades the polytechnic, where students in pristine industrial labs, like Javier Eduardo Luna Zapata, 24, have begun to dream of more than work at an auto plant.
He and a few classmates won a prestigious design award this year for a scanner that would check airport runways for debris. "We want to start a company," he said, displaying a video of the project on his cellphone. "We're going to look for investors when we graduate."
His classmates, representing a new generation of Mexicans — mostly geeks in jeans carrying smartphones — all nodded with approval.
November 9th, 2013
Executive Summary

Amid evolutionary changes in economics, leadership and policy, Mexico has emerged as an appealing alternative to China for U.S. companies looking to expand or relocate their manufacturing facilities. Wages have been sharply and steadily rising in China over the past decade, just as Mexico's manufacturing landscape has undergone a dramatic shift, marked by high-tech manufacturing hubs that are synchronous with American manufacturing needs.The erosion of China's comparative advantage over Mexico has resulted in global investment implications, with multiple industries positioned to benefit — or suffer — from the shift. In this paper, we highlight the economic, political and manufacturing climate in both countries, address relevant energy-supply and safety concerns, and identify emerging winners and losers from an investment standpoint.
The Economic and Political Backdrop
Although China has been a key driver of global growth over the past several years, it has recently experienced a slowdown,particularly within the manufacturing sector. At an April meeting of the International Monetary Fund's International Monetary and Financial Committee, Gov. Zhou Xiaochuan of the People's Bank of China said that his country's 7.7% year-on-year GDP growth for the first quarter represented "a reasonable growth track," with expected 2013 growth of 7.5%.1 While that outshines the tepid economies of many developed nations, it pales in comparison with the 10%-plus growth rates that China has enjoyed over much of the past decade. Many investors are also monitoring the monthly Purchasing Managers' Index,which has been hovering precariously near the 50 level of demarcation between expansion and contraction.Also during April, China was the target of pessimistic comments from two major ratings agencies. Moody's lowered its outlook on China's government bond rating to stable from positive, while Fitch Ratings downgraded China's long-term local currency credit rating to A-plus from AA-minus, both noting risks associated with excessive local government borrowing.2
The Chinese government, under the new leadership of President Xi Jinping, is well aware of these risks and is attempting to mitigate them, in part by increased austerity. Most recently, it tightened its controls over bond sales by local government financing vehicles, requiring them to have a rating above AA-plus.3 But other issues in the country, including suspected cyber attacks on the U.S. and renewed emphasis on strengthening China's military, have stirred some concerns in the West.
Across the ocean, Mexico's economy has also been struggling. For the first quarter, its GDP edged up a mere 0.8%, well below the 3.2% growth experienced in the fourth quarter of 2012. However, the slowdown was largely attributable to a calendar effect from an early Easter holiday and a 10% drop in public spending in the wake of December's leadership transition.4 The country also posted a 4.9% drop in industrial output in March,in tandem with an easing in U.S. manufacturing growth.5 This has prompted speculation that Banco de Mexico (Banxico), the country's central bank, will lower interest rates again this year; it last reduced its key rate by a half-point to 4% in March, the first cut in more than three years.
Nevertheless, sentiment about Mexico remains largely optimistic, at least over the long term. While growth expectations have been widely tempered for 2013, many investors are looking beyond that for compelling potential. In early May, Fitch lifted its rating on Mexico's sovereign foreign currency credit rating to BBB-plus, the country's first ratings upgrade since 2007, buoyed in large part by optimism about the country's reform agenda.6
It is that ambitious reform strategy, promoted by Mexico's new president, Enrique Peña Nieto, that has helped to strengthen the peso and underlined the country's favorable investment climate. He has tackled labor reform, reining in some powers of the teachers' union, and he has proposed to open the energy and telecommunications industries to more competition and private investment, thereby breaking up monopolies. If all of these reforms indeed reach fruition, Banxico estimates that GDP could hit 6%.
Manufacturing Climate
Amid these evolutionary changes in economics, leadership and policy, Mexico has emerged as a viable, appealing alternative to China for U.S. companies looking to expand or relocate their manufacturing facilities. According to the World Bank's 2013 Ease of Doing Business Index, which measures business regulation environments across 185 economies, Mexico ranked No. 48, up from No. 53 in the previous year, while China held steady at No. 91.7A crucial factor in determining companies' outsourcing decisions is wages, which have been sharply and steadily rising in China over the past decade, as shown in Exhibit 1.
Most of China's manufacturers are situated along the coastal provinces, which offer ready access to ocean transport as well as supply-chain logistics, but with a costly labor pool and expensive land. The government has been taking aggressive action to rein in soaring real-estate prices; for example, Beijing recently began imposing a 20% capital-gains tax on existing-home sales. Moving facilities inland will not solve the issue of rising costs, as wages are not significantly different there and transportation infrastructure is inadequate, as it can cost more to ship goods from China's interior to its coast than from Shanghai to New York.8
By contrast, Mexico's manufacturing landscape has undergone a dramatic shift in geography. As assembly-for-export plants, called maquiladoras, in the border states suffered from the effects of economic recession and rising drug-related violence,companies nimbly shifted their focus to Mexico's interior,supported by an attractive cost of living as well as by decent infrastructure and transportation. In fact, in the past three years, manufacturing jobs in the central states of Guanajuato, Aguascalientes, Queretaro and San Luis Potosi have climbed 30%, largely on the back of growing auto and aerospace businesses, which have in turn committed to providing those local communities with relevant educational opportunities.9
In tandem with this change, the importance of Mexico's once-dominant textile industry has diminished significantly,replaced by high-tech manufacturing hubs for the automotive and aerospace industries, clearly synchronous with American manufacturing needs. The U.S. is now using its neighbor to the south as "a just-in-time, conveniently located and inexpensive sourcing partner, rather than a competitor," according to Morgan Stanley Research.10
Comparatively speaking, there are other notable differences between the two countries' workforces. Mexico's laborers generally work no more than 48 hours a week, as mandated by federal law, and then go home at night, in contrast to many Chinese workers, who live in on-site dormitories, work lengthy shifts and return home only for the New Year holiday.
Demographics are another contrast, as Mexico's population skews young, while China's one-child policy has effectively shrunk the upcoming labor pool.
Energy Supply
Another potential advantage for Mexico's manufacturing sector is its proximity to cheap natural gas, as the country uses the fuel for 46% of its energy, according to Morgan Stanley Research. However, much of this is virtually untapped, as the production monopoly of Petroleos Mexicanos, also known as Pemex, has left as much as 1 trillion cubic feet of gas reserves sitting idle, as private-sector development is prohibited.11Meanwhile, Mexico's demand for the fuel has continued to soar, forcing Pemex to effectively ration limited supplies to its largest customers because of capacity constraints.This could all change if Peña Nieto has his way, resulting in a constitutional change to allow for asset sales in shale gas and deepwater exploration and downstream petrochemical auctions. That could unleash substantial foreign direct investment in the country's energy sector, as Mexico has one of the world's largest shale gas resource bases, according to the Energy Information Administration.12
On the other hand, China is the world's largest energy consumer,and its largest producer and consumer of coal, which powers much of its electricity generation. Natural gas accounts for only 4% of China's energy consumption, according to the EIA. The country also pays more for natural gas: an average of $10.77 per million Btu on LNG imports in 2012, compared with the recent benchmark Henry Hub price in Louisiana of $3.80 per million Btu. However, China is pursuing cleaner energy sources to combat rampant pollution concerns.
Safety Concerns
Both Mexico and China have a bit of an image problem when it comes to safety. For Mexico, it's been the alarming rise in violence since former President Felipe Calderon's war on drug cartels began in 2006. According to a travel warning issued by the U.S. State Department in November 2012, citing Mexican government data, "47,515 people were killed in narcotics-related violence in Mexico between Dec. 1, 2006, and Sept. 30, 2011,with 12,903 narcotics-related homicides in the first nine months of 2011 alone." The warning also cited gun battles occurring "in broad daylight on streets and other public venues" as well as the prevalence of carjackings and highway robbery in the border regions.13 However, February 2013 marked a three-year low in the country's murder rate, which remains below that of Brazil.Yet Mexico's violence problem can be a scary proposition for companies looking to locate facilities there. This isn't lost on government officials, although Peña Nieto's plan has amounted to little beyond naming a security adviser and targeting economic improvement to reduce crime. Something else must be done. In fact, in an article published last year by CNBC.com, Andrew Selee, director of the Mexico Institute, a Washington think tank, summarized the resulting chilling effect on business: "It's like the Mexican economy is driving with the emergency brake on. You can only imagine if the violence weren't going on,its growth could be extraordinary."14
China has encountered challenges of a different sort when it comes to worker and consumer safety. Its labor problems have come to the forefront in recent years, after a number of incidents, including explosions and improper use of toxic chemicals, resulted in many injuries and even deaths at Chinese factories tasked with producing iPhones and iPads. One manufacturer made headlines in 2010 after a spate of employee suicides prompted the company to install worker hotlines and even safety nets on some of its buildings to catch people who jumped. A much-cited New York Times article detailed the working conditions at some of these plants, citing 12-hour workdays, six-day workweeks and dormitory accommodations of 20 people in a three-room apartment.15
Product safety has been another ongoing concern, peaking in 2007 with the Food and Drug Administration's ban on imported Chinese toothpaste because it may contain harmful levels of diethylene glycol, which is used in antifreeze, and a massive recall of more than a million Chinese-made toys that may contain high levels of lead. As recently as this year, though,China has faced related issues, such as the discovery of cadmiumin its rice supply and more recalls of infant formula because of contamination problems. China's leaders have been attempting to respond to concerns more transparently, especially those related to environmental issues.16
Less imminently dangerous, but also problematic for business in China are counterfeit production and a perceived lack of court enforcement for intellectual property rights. The advantage here goes to Mexico, according to Morgan Stanley, which noted that, "Mexico offers a more attractive environment for multinational corporations concerned about piracy, copyrights and protection from industrial espionage than some of its Asian competitors."17
A Matter of Convenience
Beyond economic slowdowns, leadership transitions, labor costs, safety concerns and energy sources, some decisions comedown to what is easiest for a company and its executives. When choosing between Mexico and China as an outsourcing partner, American business leaders may decide that all else being equal, Mexico is simply more convenient. Travel times and expenses are markedly lower, work visas are easier to obtain, and the language and cultural barriers are not as high. Currency is also in Mexico's favor, as the peso floats along with the U.S. dollar, while China's currency manipulation has been a sore spot in international trade talks. Mexico also operates on similar time zones and holiday schedules as the U.S., meaning fewer overnight conference calls and better-aligned availability.

Investment Implications

As outlined above, China's comparative advantage versus Mexico has eroded on multiple fronts. This change in competitive positioning is resulting in global investment implications, with potential winners and losers dynamically emerging.We believe multiple industries are positioned to benefit from this shift, including:ƒƒ
North American resource companies. As Mexican manufacturing expands, factories there will consume more natural resources. To meet this rising demand, North American shale oil and gas may represent a material portion of Mexico's energy supply, which would boost both infrastructure suppliers and hydrocarbon producers.
North American retailers and manufacturers. They can capitalize on both the cost savings of manufacturing in Mexico and shorter lead times in the supply chain. In particular, shorter lead times can be crucially important in helping companies respond to their customers' needs in this increasingly competitive world.ƒƒ
Industrial automation companies. China needs to find ways to reduce its labor costs, and one proven method of doing so is by automating factory processing. The penetration of automated factories in China is low compared with the developed world.
Meanwhile, other industries will feel a negative impact from the change, including:
The ocean-transportation industry. As China loses market share to Mexico, fewer goods will be shipped from the Asia-Pacific region to the U.S. and other countries in the Western Hemisphere. As this industry has high fixed costs, any loss of volume will pressure margins.ƒƒ
Chinese retail plays. For years, Chinese consumer wages have grown at double-digit rates, fueling the retail industry. As wage growth slows, the risk is that Chinese retailers will expand too fast, leading to an oversupply of retail space.
Conclusion
We believe that U.S. and multinational manufacturers will continue to evaluate Mexico's potential as a manufacturing center and likely come away with favorable conclusions. The country's costs and wages remain reasonable, and its proximity to the U.S. offers numerous benefits. In addition, Mexico's renewed reform efforts, if ultimately implemented, could significantly boost its economic growth. At the same time, China's wages and real estate prices continue to rise, making it a less attractive alternative for American outsourcing. However, economic growth in both countries is rather tenuous, and safety is still a concern. As these dynamics evolve, we expect an ongoing shift in manufacturing from China to Mexico, with winners and losers emerging across the global landscape.

References
1Statement by the Honorable Zhou Xiaochuan, Governor of the IMFfor China, at the 27th meeting of the International Monetary and Financial Committee, Washington, D.C., April 20, 2013.
2Ian Chua and Pete Sweeney, "Moody's lowers China outlook after Fitch downgrade," Reuters, April 16, 2013.
3Jane Cai, "China tightens rules for local government debt sales," South China Morning Post, May 8, 2013.
4Charles Roth, "Mexico's First Quarter GDP Down, but Far From Out,"The Wall Street Journal, May 17, 2013.
5Alexandra Alper, "Mexico March industrial output contracts most in 3 yrs," Reuters, May 10, 2013.
6Michael O'Boyle and Krista Hughes, "Fitch upgrades Mexico to BBB-plus on reform momentum," Reuters, May 8, 2013.
7For information on the Ease of Doing Business Index methodology, please click here: http://www.doingbusiness.org/~/media/GIAWB/Doing%20Business/Documents/Annual-Reports/English/DB13-Chapters/Ease-of-doing-business-and-distance-to-frontier.pdf
8"The end of cheap China," The Economist, March 10, 2012.
9Krista Hughes, "Mexican manufacturing: from sweatshops to high-tech motors," Reuters, April 9, 2013.
10"US Manufacturing Renaissance: Is It a Masterpiece or a (Head)Fake?" Morgan Stanley Research, April 29, 2013.
11Carlos Manuel Rodriguez, "U.S. shale glut means gas shortage for Mexican industry: Energy," Bloomberg, Sept. 4, 2012.
12Mexico analysis, U.S. Energy Information Administration, last updated Oct. 17, 2012.
13"Travel Warning: Mexico," U.S. Department of State, Bureau of Consular Affairs, Nov. 20, 2012.
14Deborah Caldwell, "Crime explodes — but an economy booms," CNBC.com, Sept. 18, 2012.
15Charles Duhigg and David Barboza, "In China, human costs are built into an iPad," The New York Times, January 25, 2012.
16Te-Ping Chen, "Threat to rice fuels latest Chinese uproar," The Wall Street Journal, May 21, 2013.
17"US Manufacturing Renaissance: Is It a Masterpiece or a (Head) Fake?" Morgan Stanley Research, April 29, 2013.

Disclosure

Any statements of opinion constitute only current opinions of The Boston Company Asset Management, LLC (TBCAM), which are subject to change and which TBCAM does not undertake to update. Due to, among other things, the volatile nature of the markets and the investment areas discussed herein, they may only be suitable for certain investors.This publication or any portion thereof may not be copied or distributed without prior written approval from The Boston Company Asset Management, LLC (TBCAM). Statements are correct as of the date of the material only. This document may not be used for the purpose of an offer or solicitation in any jurisdiction or in any circumstances in which such offer or solicitation is unlawful or not authorised. The information in this publication is for general information only and is not intended to provide specific investment advice or recommendations for any purchase or sale of any specific security.Some information contained herein has been obtained from third party sources that are believed to be reliable, but the information has not been independently verified by TBCAM. TBCAM makes no representations as to the accuracy or the completeness of such information.
No investment strategy or risk management technique can guarantee returns or eliminate risk in any market environment.
The Boston Company Asset Management, LLC is a global, performance-driven investment management firm with a collaborative, entrepreneurial spirit. We are committed to providing creative investment solutions for our clients, backed by top-notch fundamental and quantitative research.
October 7th, 2013

Mexico's President Enrique Pena Nieto recently presented to Congress the executive's fiscal reform initiative which will be evaluated by the House of Representatives first and then by the Senate.
The highly controversial proposal, originally expected to structurally reform Mexico's budget model, turned out to be a general tax increase on businesses, higher income earners and international firms manufacturing in Mexico, among other already "captive" tax payers.
The proposal does not include any provisions for the reduction or transparency of public spending, and does not properly provide for the incorporation of informal, unregistered businesses to the taxpaying base.
According to Alfredo Coutino, Moody's Latin America Director: "The proposal is short of the expectations originally outlined by the President and it does not reach the objective of balancing the budget.
The proposal is based on hiking current taxes and creating new ones for the current tax payers; it does not propose to improve the efficiency of the tax authority by increasing the number of tax payers."
The proposition is a political social initiative as it seeks to dedicate a large portion of the tax proceeds to support unemployment insurance and universal health coverage in Mexico. It also waives to impose IVA (value added tax, VAT, or sales tax) on food and medicines (The possibility of taxing food and medicines was highly unpopular and was strongly opposed by the left parties).
Selective social programs are certainly needed in Mexico, but not at the sole expense of businesses.
Although rather unlikely, some hope that the government controlled House of Representatives is able to produced a more balanced proposal that includes spending cuts, transparency and accountability by state and federal entities and the expansion of the tax payers base.
Mexico's legislators were setting an example so far through the "Pact for Mexico", blitzing through reforms in education, telecom and anti-trust among others. Although the heat of recent elections seems to have dented the process, Mexico's legislators are not yet ready to "join the club" of their U.S. colleagues where Congress is practically paralyzed.
The resulting tax reform legislation in Mexico, if passed, is expected to be announced during this coming week of October 20.
THE EFFECT ON MAQUILADORAS
Maquiladoras' oldest cry in Mexico is the need for permanent and clear tax rules so that they can adequately make their typical 5-year financial and production plans. But the treasury department frequently changes the rules defying Mexico's competitiveness to attract foreign investment. This time around, the resilience of maquiladoras may be pushed over the cliff.
In a nutshell, the new tax reform proposal includes the elimination of the preferential tax treatment that the maquiladoras currently have, taking them from a preferential corporate income tax rate of 17.5% to a rate of 30%.
In addition, the proposal will also impose a new 10% tax on corporate dividends and it will also expand the taxable income base by eliminating deductions and changing the "price-transfer" rules between parent company and maquiladora subsidiaries.
Also, the tax proposal practically eliminates the highly successful maquiladora regime that grants a tax free treatment on temporary importations of industrial inputs, by charging IVA in such imports. Although this IVA is subject to a drawback, it would take a huge amount of funds to finance its 6-month cycle from the time of payment until the eventual reimbursement.
Also, under the new rules, maquiladoras' parent companies would be required to pay 16% IVA tax on the value of buy/sell transactions on the production supply chain or maquila to maquila transfers.
Unless they make profound changes to their global corporate structure, the IVA would directly impact the cost of doing business, because they would not be able to recover it. This would directly affect many Mexican businesses that are involved in the supply chain structure.
Carlos Angulo, PAN Congressman and member of the Maquiladora Committee and Secretary of the Constitutional Reform Committee of the lower house said: "We can summarize the effects of the proposed tax reform on the maquiladora industry in one word: Catastrophic."
"For example, under the new rules, if implemented, the annual income tax bill of a typical 500-workers maquiladora operation would go from a current level of about $24 Million Pesos to over $230 Million", explained Angulo, "..and the maquiladora industry as a whole would need to increase its working capital by US$17.5 Billion at an annual financial cost of about US$750 Million just to keep up with the IVA requirements on temporary imports."
"Supply chain operations between maquiladoras, a current common practice, would be interrupted if faced with cascading IVA impositions. The tax reform proposal would be like a catastrophic knock-out blow to the maquiladora industry global competitiveness" said Angulo.
Luis Aguirre Lang, President of the Maquiladora National Council (INDEX) expressed his frustration as follows: "The tax reform has created panic among the international firms operating in Mexico. We could lose up to two million, three hundred thousand manufacturing jobs if this reform is approved as proposed."
THE EFFECT ON THE BORDER ECONOMY
The tax reform includes a generalized consumption increase of the IVA rate within the border region from 11% to 16%.
Any housewife living in Ciudad Juarez knows what this means: More trips to El Paso to buy clothing, house items, school supplies, etc., anything that will be taxed in Mexico at 16%, she can get in El Paso at a sales tax rate of 8.25%, which with a little effort she can get refunded.
And the flow of visitors from El Paso to Juarez, which had recently started to pick-up as the security improved, will certainly suffer as restaurants, bars and other IVA taxed purchases will automatically increase their prices by 5% if the tax reform gets approved by Congress.
The reduction of consumer purchases in Juarez as a result of the IVA increase, will weigh in to increase the closing of commercial businesses, unemployment and violence.
The combination of reduced consumption and pulling the rug from under the maquiladoras will have a multiplying, significant negative effect on Mexican border cities' economies and their quality of life.
CONCLUSION
Carlos Angulo summed it up as follows: "The tax reform proposal appears to be designed by a freshman student with a total ignorance of border commerce and international production sharing practices."
It is expected that industry associations, state and city governments and everybody else with a stake in the maquiladora industry and the border economy will lobby heavily in the weeks to come to mitigate the negative effects of the tax reform on the 43 year-old successful maquiladora program.
Juarez-El Paso NOW Staff report
September 22nd, 2013
---
September 21, 2013
MEXICO CITY — Mexico, whose economic woes have pushed millions of people north, is increasingly becoming an immigrant destination. The country's documented foreign-born population nearly doubled between 2000 and 2010, and officials now say the pace is accelerating as broad changes in the global economy create new dynamics of migration.
Rising wages in China and higher transportation costs have made Mexican manufacturing highly competitive again, with some projections suggesting it is already cheaper than China for many industries serving the American market. Europe is sputtering, pushing workers away. And while Mexico's economy is far from trouble free, its growth easily outpaced the giants of the hemisphere — the United States, Canada and Brazil — in 2011 and 2012, according to International Monetary Fund data, making the country more attractive to fortune seekers worldwide.
The new arrivals range in class from executives to laborers; Mexican officials said Friday that residency requests had grown by 10 percent since November, when a new law meant to streamline the process took effect. And they are coming from nearly everywhere.
Guillaume Pace saw his native France wilting economically, so with his new degree in finance, he moved to Mexico City.
Lee Hwan-hee made the same move from South Korea for an internship, while Spanish filmmakers, Japanese automotive executives and entrepreneurs from the United States and Latin America arrive practically daily — pursuing dreams, living well and frequently succeeding.
"There is this energy here, this feeling that anything can happen," said Lesley Téllez, a Californian whose three-year-old business running culinary tours served hundreds of clients here last year. "It's hard to find that in the U.S."
The shift with Mexico's northern neighbor is especially stark. Americans now make up more than three-quarters of Mexico's roughly one million documented foreigners, up from around two-thirds in 2000, leading to a historic milestone: more Americans have been added to the population of Mexico over the past few years than Mexicans have been added to the population of the United States, according to government data in both nations.
Mexican migration to the United States has reached an equilibrium, with about as many Mexicans moving north from 2005 to 2010 as those returning south. The number of Americans legally living and working in Mexico grew to more than 70,000 in 2012 from 60,000 in 2009, a number that does not include many students and retirees, those on tourist visas or the roughly 350,000 American children who have arrived since 2005 with their Mexican parents.
"Mexico is changing; all the numbers point in that direction," said Ernesto Rodríguez Chávez, the former director of migration policy at Mexico's Interior Ministry. He added: "There's been an opening to the world in every way — culturally, socially and economically."
But the effect of that opening varies widely. Many economists, demographers and Mexican officials see the growing foreign presence as an indicator that global trends have been breaking Mexico's way — or as President Enrique Peña Nieto often puts it, "the stars are aligning" — but there are plenty of obstacles threatening to scuttle Mexico's moment.
Inequality remains a huge problem, and in many Mexican states education is still a mess and criminals rule. Many local companies that could be benefiting from Mexico's rise also remain isolated from the export economy and its benefits, with credit hard to come by and little confidence that the country's window of opportunity will stay open for long. Indeed, over the past year, as projections for growth have been trimmed by Mexico's central bank, it has become increasingly clear to officials and experts that the country cannot expect its new competitiveness to single-handedly move it forward.
"The fact that there is a Mexican moment does not mean by itself it's going to change our future," said Ildefonso Guajardo Villarreal, Mexico's economy minister. "We have to take advantage of the Mexican moment to do what is required of us." The challenge, he said, is making sure that the growing interest in his country benefits all Mexicans, not just newcomers, investors and a privileged few.
Mexico has failed to live up to its economic potential before. "They really blew a moment in 1994 when their currency was at rock bottom and they'd just signed Nafta," said Kevin P. Gallagher, a professor of international relations at Boston University, adding that those conditions created a big opportunity for Mexican exports.
But now, he and others contend, Mexico has another shot. If the country of 112 million people can harness the energy of foreigners and newly educated Mexicans, become partners with the slew of American firms seeking alternatives to China, and get them to do more than just hire cheap labor, economists and officials say Mexico could finally become a more equal partner for the United States and the first-world country its presidents have promised for decades.
"This is their second chance," Professor Gallagher said. "And this time, they really have to capitalize on it."
Protection to Openness
For most the 20th century, Mexico kept the world at arm's length. The 1917 Constitution guaranteed Mexicans would be given priority over foreigners for various jobs, and until the 1980s the country favored policies that protected domestic industry from imports.
Mexico was never totally closed — midcentury wars in Europe and the Middle East sent ripples of immigrants to Mexico, while Americans and Central Americans have always maintained a presence. But it was not a country that welcomed outsiders; the Constitution even prohibited non-Mexicans from directly owning land within 31 miles of the coast and 62 miles of the nation's borders.
Attitudes began to soften, however, as Mexico's relationship with the United States began to change. Many economists and social scientists say that closer ties with Mexico's beloved and hated neighbor to the north, through immigration and trade, have made many Mexicans feel less insular. Millions of emigrants send money earned abroad to relatives in Mexico, who then rush out to Costco for more affordable food and electronics. Even the national soccer team, after decades of resistance, now includes two Argentine-born midfielders.
"It's a new era in terms of our perspective," said Francisco Alba Hernández, a scholar at the Colegio de México's Center for the Study of Urban and Environmental Demographics. "We are now more certain about the value of sharing certain things."
Like immigrants the world over, many of Mexico's newcomers are landing where earlier arrivals can be found. Some of the growth is appearing in border towns where foreign companies and binational families are common. American retirees are showing up in new developments from San Miguel de Allende to other sunny spots around Cancún and Puerto Vallarta. Government figures show that more Canadians are also joining their ranks.
But the most significant changes can be found in central Mexico. More and more American consultants helping businesses move production from China are crisscrossing the region from San Luis Potosí to Guadalajara, where Silicon Valley veterans like Andy Kieffer, the founder of Agave Lab, are developing smartphone applications and financing new start-ups. In Guanajuato, Germans are moving in and car-pooling with Mexicans heading to a new Volkswagen factory that opened a year ago, and sushi can now be found at hotel breakfasts because of all the Japanese executives preparing for a new Honda plant opening nearby.
Here in the capital, too, immigrants are becoming a larger proportion of the population and a growing part of the economy and culture, opening new restaurants, designing new buildings, financing new cultural offerings and filling a number of schools with their children. Economics has been the primary motivator for members of all classes: laborers from Central America; middle-class migrants like Manuel Sánchez, who moved here from Venezuela two years ago and found a job selling hair products within 15 days of his arrival; and the global crème de la crème in finance and technology, like Mr. Pace, 26, whose first job in Mexico was with a major French bank just after graduating from the University of Reims.
Mr. Pace, bearded and as slim as a Gauloises, said he moved to Mexico in 2011 because college graduates in France were struggling to find work. He has stayed here, he said, because the affordable quality of life beats living in Europe — and because Mexico offers more opportunity for entrepreneurship.
Sitting at a Belgian cafe with a laptop this spring, speaking Spanish with a lilt, he said he recently opened a communications business that was off to a blazing start. One of his partners was French, the other Mexican, and in their first few months of operation, they got more than 30 clients, including VivaAerobus, a discount airline aimed at Mexico's emerging middle class.
More recently, as Mexico's economy has slowed, Mr. Pace said a few clients had canceled planned promotions, but over all his business has grown this year to include work for international brands like Doritos and the beer Dos Equis.
"We're not going back to France," Mr. Pace said. "The business is doing well and we're very happy in Mexico."
Some Mexicans and foreigners say Europeans are given special treatment because they are perceived to be of a higher class, a legacy of colonialism when lighter skin led to greater privileges. But like many other entrepreneurs from foreign lands, Mr. Pace and his partners are both benefiting from and helping to shape how Mexico works. Mr. Rodríguez, the former Interior Ministry official, Cuban by birth, said that foreigners had helped make Mexico City more socially liberal.
And with so many Mexicans working in the informal economy, foreigners have little trouble starting new ventures. Many immigrants say Mexico is attractive because it feels disorderly, like a work in progress, with the blueprints of success, hierarchy and legality still being drawn. "Not everyone follows the rules here, so if you really want to make something happen you can make it happen," said Ms. Téllez, 34, whose food business served more than 500 visitors last year. "No one is going to fault you for not following all the rules."
Mr. Lee said that compared with South Korea, where career options were limited by test scores and universities attended, Mexico allowed for more rapid advancement. As an intern at the Korea Trade-Investment Promotion Agency here, he said he learned up close how Samsung and other Korean exporters worked. "Here," he said, "the doors are more open for all Koreans." He added that among his friends back home, learning Spanish was now second only to learning English.
The results of that interest are becoming increasingly clear. There were 10 times as many Koreans living in Mexico in 2010 as in 2000. Officials at a newly opened Korean cultural center here say at least 12,000 Koreans now call Mexico home, and young Mexicans in particular are welcoming them with open arms: there are now 70 fan clubs for Korean pop music in Mexico, with at least 60,000 members.
A Creative Magnet
Europe, dying; Mexico, coming to life. The United States, closed and materialistic; Mexico, open and creative. Perceptions are what drive migration worldwide, and in interviews with dozens of new arrivals to Mexico City — including architects, artists and entrepreneurs — it became clear that the country's attractiveness extended beyond economics.
Artists like Marc Vigil, a well-known Spanish television director who moved to Mexico City in October, said that compared with Spain, Mexico was teeming with life and an eagerness to experiment. Like India in relation to England, Mexico has an audience that is larger and younger than the population of its former colonial overlord. Mr. Vigil said that allowed for clever programming, adding that he already had several projects in the final stages of negotiation.
"In Spain, everything is a problem," he said. "Here in Mexico, everything is possible. There is more work and in the attitude here, there is more of a spirit of struggle and creativity."
Diego Quemada-Díez, another Spanish director who said he was the first person in his family to leave Spain since at least the 1400s, moved to Mexico in 2008 after working as a camera operator in Hollywood. He went to film school at the American Film Institute and completed a short film that won several awards, but he said he moved to Mexico because the United States had become creatively restrictive. He wanted to make a film without famous actors, about Central American immigrants. In Los Angeles, no producers would bite. Here, the government provided more than $1 million in financing. The film, La Jaula de Oro, had its premiere at Cannes this year, with its young actors winning an award.
"Europe feels spiritually dead and so does the United States," Mr. Quemada-Díez said. "You end up wanting something else."
He struggled to make sense of Mexico at first. Many foreigners do, complaining that the country is still a place of paradox, delays and promises never fulfilled for reasons never explained — a cultural clash that affects business of all kinds. "In California, there was one layer of subtext," Mr. Quemada-Díez said. "Here there are 40 layers."
Mexico's immigrant population is still relatively small. Some officials estimate that four million foreigners have lived in Mexico over the past few years, but the 2010 census counted about one million, making around 1 percent of the country foreign-born compared with 13 percent in the United States. Many Mexicans, especially among the poor, see foreigners as novel and unfamiliar invaders.
Race, ethnicity and nationality matter. Most of the immigrants who have the resources or corporate sponsorship to gain legal residency here come from the United States and Europe. The thousands of Central American immigrants coming to Mexico without visas — to work on farms or in cities, or to get to the United States — are often greeted with beatings by the Mexican police or intense pressure to work for drug cartels. Koreans also say they often hear the xenophobic refrain, "Go back to your own country."
Mr. Sánchez, the hair products salesman from Venezuela, said Mexicans who had not been able to rise above their economic class mostly seemed to resent the mobility of immigrants. In a country still scarred by the Spanish conquistadors, he said many of his Mexican neighbors responded with shock when they discovered that his younger sister was studying medicine at Mexico's national university. Not that the quiet scorn is enough to deter him. "I earn more here in a year than I would in 10 years in my own country," he said. "Mexicans don't realize how great their country is."
Many do, of course, especially those with experience elsewhere. Mexico has allowed dual nationality for more than a decade, and among the growing group of foreigners moving here are also young men and women born in Mexico to foreign parents, or who grew up abroad as the children of Mexicans. A globalized generation, they could live just about anywhere, but they are increasingly choosing Mexico.
Some are passionate idealists, like Luna Mancini, 27, a human rights lawyer working for the Supreme Court who was born in Mexico to Italian parents. After growing up in Barcelona, Spain, she returned to Mexico in 2009 because she felt that more could be done in Latin America, with law and with new tools of communication — digital video, social media — that encouraged grass-roots dialogue. Some, especially Mexican-Americans working in Mexico City's hip culinary scene, have come here to reconnect with their roots. Others simply see Mexico as their best option, as an incubator for personal, professional and artistic growth.
Domingo Delaroiere, an architect whose father is French and mother is Mexican, said Mexico's appeal — especially in the capital — was becoming harder to miss. When he came back here last year for a visit, after two and a half years in Paris, he said he was surprised. "Art, culture, fashion, architecture, design — the city was filling up with new spaces, things that are interesting, daring," he said.
He soon decided it was time to move. Compared with Mexico, he said, "Nothing is happening in Paris."