June 22nd, 2017

The auto industry is changing in ways that favor the U.S. – as long as Mexico and Canada are part of its supply chain.
Ford announced this week that instead of building its new Focus – the best-selling car in the world – in a new $1.6 billion dollar Mexico-based plant, it will ship cars for North American customers from China.
Ford has promised that its decision won't reduce its workforce. Yet even if that is true, American workers will lose. Today the compact Focus uses steel from Wisconsin, axles from Oregon, seatbelts from Indiana, grills from Michigan, tire pressure sensors from Tennessee, front-side shafts from North Carolina and Ohio, and the list goes on. With the shift, these raw materials, parts and components will be sourced and put together in Asia, eliminating dozens of U.S. based suppliers, and likely costing many of their employees their jobs. While assembly was scheduled to move from Michigan to Mexico, that would have ensured ongoing American employment – as over 40 percent of the value of vehicles "made in Mexico" comes from U.S. factory floors and U.S. offices. For products imported from China – as the new Ford Focus will be starting in 2019 – this number is a negligible 4 percent.
Ford made the decision first and foremost for market reasons. China's 28 million vehicle market is the largest in the world. And while U.S. demand for smaller cars has faltered, in China it is growing at a robust 4 percent annually. Already nearly half of the million Ford Focus models sold each year go to Chinese buyers. Importing vehicles isn't an option as the United States doesn't have a free trade agreement with China, so cars coming from abroad face a stifling 25 percent tariff.
Transferring production east will also save Ford significant upfront costs. Rather than sinking more than a billion dollars into a green field operation, it can adjust and expand two existing Chinese plants, making output more nimble in the face of potentially fickle consumer demand.
Further, small cars have always been a challenge for Detroit. With the lower prices come the slimmest of profit margins. General Motors (GM) recently left Europe entirely, selling its operations to PSA Peugeot Citroën, as it couldn't make a go of it in a place not partial to larger pickups and SUVs.
Yet despite these business calculations, until now small cars destined for the North American market were mostly made in North America. One of the reasons has been NAFTA. During the 23-year tenure of the free trade agreement, autos have become one of the region's most integrated sectors, weaving together companies spanning United States, Mexico and Canada into a North America-wide assembly line. A telling statistic: Before NAFTA, U.S. content in Mexican-made cars was roughly 5 percent; today it is over 40 percent.  NAFTA gave car companies and their long chain of suppliers the aggregated benefit of access to talented engineers and scientists, differential labor costs for the high- and low-skill parts of production, a stable legal environment, and zero tariffs.
The ability to leverage the distinct advantages of each country in research and development, production, marketing, and sales helped make North America the dominant continental and global auto player, producing 18 million vehicles a year. This landscape has benefited not just Detroit's Big Three – Ford, GM, and Chrysler – but also attracted investment from BMW, Audi, Nissan, Toyota, Honda, and other international brands, which encouraged hundreds of their preferred suppliers to set up shops and factories across North America's heartlands. As a result, more BMWs are made in Spartanburg, South Carolina than in Munich, Germany, the headquarters for the 60 billion dollar company.
Ford's recent decision reflects the current challenges to this dominance. The economics are shifting, as emerging economies offer both workers and consumers to car companies. So too are the politics: If the tariff free and cross-country production benefits of a combined North America end, then making cars in China or elsewhere makes even more sense.
The questioning of NAFTA comes just as China aspires to build its own global auto footprint. To date, Chinese producers have left the iconic American industry alone, instead working out quality kinks at home and trying to keep up with voracious domestic demand. But over the last five years its local champions have begun aggressively exporting, starting with developing countries including India, Iran, Indonesia and Malaysia. Chinese makers are also investing abroad – in May JAC Motors announced plans to partner with Mexican telecommunications tycoon Carlos Slim on a Hidalgo plant to build vehicles for Mexico and the rest of Latin America.
The auto industry is transforming in ways that potentially play to America's strengths. It is rapidly automating – already using nearly four out of every ten deployed robots in the United States. It is also advancing technologically, developing new lighter materials, electric powered vehicles, and driverless options. But U.S. commercial vehicle dominance depends on regional production, and the benefits of Canadian and Mexican suppliers and assembly. To ensure that future cars and trucks are made here, NAFTA, and the deep production ties linking the three neighbors, needs to stay.
September 8th, 2016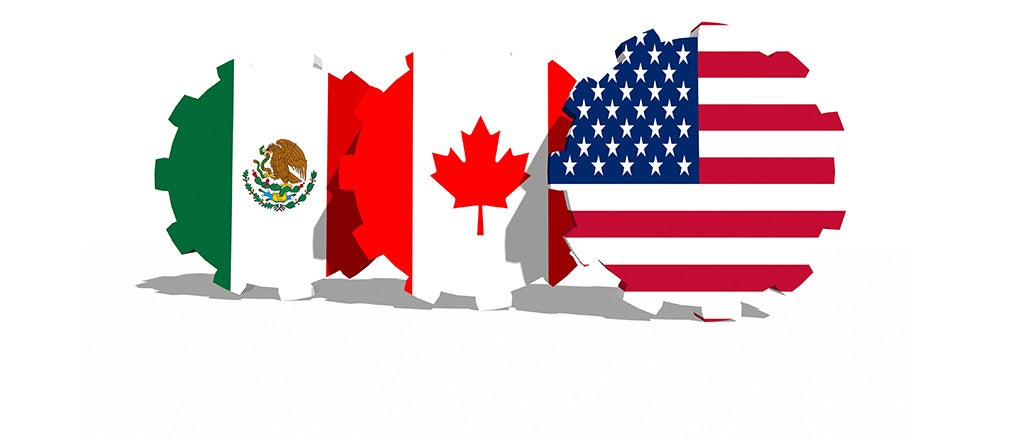 Sep 06, 2016
When President Bill Clinton signed the North American Trade Agreement (NAFTA) in December 1993, he predicted that "NAFTA will tear down trade barriers between our three nations, create the world's largest trade zone, and create 200,000 jobs in [the U.S.] by 1995 alone. The environmental and labor side agreements negotiated by our administration will make this agreement a force for social progress as well as economic growth." Twenty-three years later, scholars and policy makers often disagree about the impact that NAFTA has had on economic growth and job generation in the U.S. That impact, they say, is not always easy to disentangle from other economic, social and political factors that have influenced U.S. growth.
On the positive side, overall trade between the three NAFTA partners — the U.S., Canada and Mexico — has increased sharply over the pact's history, from roughly $290 billion in 1993 to more than $1.1 trillion in 2016. Cross-border investment has also surged during those years, as the stock of U.S. foreign direct investment (FDI) in Mexico rose from $15 billion to more than $107.8 billion in 2014. As for job growth, according to the U.S. Chamber of Commerce, six million U.S. jobs depend on U.S. trade with Mexico, a flow that has been greatly facilitated by NAFTA, which has helped eliminate costly tariff and non-tariff barriers. NAFTA has also facilitated a multi-layered integration of the U.S., Mexican and Canadian supply chains. According to the Wilson Center, twenty-five cents out of every dollar of goods that are imported from Canada to the U.S. is actually "Made in USA" content, as are 40 cents out of every dollar for goods imported into the U.S. from Mexico.
Geronimo Gutierrez, managing director of the North American Development Bank (NADB), notes that trade between the United States and Mexico reached over $500 billion in 2015, a five-fold increase since 1992, when NAFTA negotiations concluded. Thus, he explains, Mexico imports more from the U.S. these days than do all of the so-called BRIC nations combined – Brazil, Russia, India and China. (The NADB acts as a binational catalyst in helping communities along the U.S.-Mexico border develop affordable, long-term infrastructure.)
Gutierrez adds that there are lesser-known benefits of NAFTA. By promoting the tight integration of North American industrial supply chains, "NAFTA is creating partners and not competitors among its member countries. As for Mexico's interest in this bilateral relationship, it can be summarized in two facts: about 80% of Mexico's exports go to the U.S., while 50% of the accumulated foreign direct investment received between 2000 and 2011 comes from the U.S. Moreover, NAFTA has been the fundamental anchor for reforms that make Mexico a more modern economy and open society."
A Modest Impact
For all that, most studies conclude that NAFTA has had only a modest positive impact on U.S. GDP. For example, according to a 2014 report by the Peterson Institute for International Economics (PIIE), the United States has been $127 billion richer each year thanks to "extra" trade growth fostered by NAFTA. For the United States, with its population of 320 million at the time of that study, the pure economic payoff was thus only $400 per person, while per capita GDP was close to $50,000. And while the costs of NAFTA are highly concentrated in specific industries like auto manufacturing — where job losses may be significant for specific firms — the benefits of the trade pact (such as lower prices for imported electronics or clothing) are distributed widely across the U.S., as they are in the case of any trade pact worldwide.
Most studies conclude that NAFTA has had only a modest positive impact on U.S. GDP.
Supporters of NAFTA estimate that some 14 million jobs rely on trade with Canada and Mexico combined, and the nearly 200,000 export-related jobs created annually by NAFTA pay an average salary of 15% to 20% more than the jobs that were lost, according to a PIIE study. Furthermore, the study found that only about 15,000 jobs on net are lost each year due to NAFTA. "On our reckoning, since NAFTA's enactment, fewer than 5% of U.S. workers who have lost jobs from sizable layoffs (such as when large plants close down) can be attributed to rising imports from Mexico," wrote its authors, PIIE senior fellow Gary Clyde Hufbauer and research analyst Cathleen Cimino-Isaacs. For the roughly 200,000 out of 4 million people who lose their jobs annually under these circumstances, the job losses can be attributed to rising imports from Mexico, they wrote, but "almost the same number of new jobs has been created annually by rising U.S. exports to Mexico." Moreover, "For every net job lost in this definition, the gains to the U.S. economy were about $450,000, owing to enhanced productivity of the workforce, a broader range of goods and services, and lower prices at the checkout counter for households."
Trade specialists agree that it has proven difficult to separate the deal's direct effects on trade and investment from other factors, including rapid improvements in technology, expanded trade with other countries such as China and unrelated domestic developments in each of the countries.
Walter Kemmsies, managing director, economist and chief strategist at JLL Ports Airports and Global Infrastructure, notes that that many of the job losses that are popularly blamed on NAFTA would likely have taken place even in the absence of NAFTA, in part because of growing competition from China-based manufacturers, many of which have taken advantage of currency manipulation by the Chinese government that has rendered China-made products more price-competitive in the U.S. Likewise, Mauro Guillen, head of Wharton's Lauder Institute, agrees that without NAFTA, many American jobs that were lost over this period would probably have gone to China or elsewhere. "Perhaps NAFTA accelerated the process, but it did not make a huge difference."
"A lot of instant experts on NAFTA don't really understand trade and what drives trade," said Kemmsies. "And so they get confused between NAFTA and the globalization of the world's economy. The fact is, with or without NAFTA, we would have done a lot more trade with Mexico anyway. I'm not sure that NAFTA has even fostered any growth of trade between the U.S. and Mexico. Look at Mexico and forget about everything else for a second: What is the single-biggest trade-flow corridor in the world? It's East-West — Asia to Europe to North America. Mexico happens to sit right smack in the middle of the East-West trade flow…. Here is Mexico, with 120 million people, and all of these abilities to draw raw materials…. You have a cheap labor force, a global geographic advantage, a rising middle class. It's a good place to make stuff."
For a long time, because of a lack of investment, Mexico's infrastructure was well below par, including its ports, which were made to process raw materials, rather than handle industrial goods. In that respect, NAFTA has had a positive impact on Mexico's economic development, and it has encouraged foreign investors to trust that Mexico, whose governments were long protectionist and populist, would follow the rule of international law. International trade specialists M. Angeles Villarreal and Ian F. Fergusson of the Congressional Research Service wrote in a recent report: "While Mexico's unilateral trade and investment liberalization measures in the 1980s and early 1990s contributed to the increase of U.S. Foreign Direct Investment (FDI) in Mexico, NAFTA provisions on foreign investment may have helped to lock in Mexico's reforms and increase investor confidence [in Mexico.]" Nearly half of total FDI investment in Mexico is in its booming manufacturing sector.
Job Losses and Lower Wages
Some critics argue that NAFTA is to blame for job losses and wage stagnation in the U.S., because competition from Mexican firms has forced many U.S. firms to relocate to Mexico. Between 1993 and 2014, the U.S.-Mexico trade balance swung from a $1.7 billion U.S. surplus to a $54 billion deficit. Economists such as Dean Baker of the Center for Economic and Policy Research and Robert Scott, chief economist at the Economic Policy Institute, argue that the consequent surge of imports from Mexico into the U.S. coincided with the loss of up to 600,000 U.S. jobs over two decades, although they admit that some of that import growth would likely have happened even without NAFTA.
"A lot of instant experts on NAFTA don't really understand trade and what drives trade." –Walter Kemmsies
While conceding that many U.S. high-wage manufacturing jobs were relocated to Mexico, China and other foreign locations as a result of NAFTA, Morris Cohen, Wharton professor of operations and information management, argues that NAFTA has, on balance, been a good thing for the U.S. economy and U.S. corporations. "The sucking sound that Ross Perot predicted did not occur; many jobs were created in Canada and Mexico, and [the resulting] economic activity created a somewhat seamless supply chain — a North American supply chain that allowed North American auto companies to be more profitable and more competitive."
Moreover, in their 2015 study published by Congressional Research Service, Villarreal and Fergusson noted, "The overall economic impact of NAFTA is difficult to measure since trade and investment trends are influenced by numerous other economic variables, such as economic growth, inflation, and currency fluctuations. The agreement may have accelerated the trade liberalization that was already taking place, but many of these changes may have taken place with or without an agreement."
Some of its harshest critics concede that NAFTA should not be held entirely responsible for the recent loss of U.S. industrial jobs. According to Scott of the Economic Policy Institute, "Over the past two decades, currency manipulation by about 20 countries, led by China, has inflated U.S. trade deficits, which [in combination with the lingering effects of the Great Recession] is largely responsible for the loss of more than five million U.S. manufacturing jobs." Scott argues that while NAFTA and other trade deals such as the Trans-Pacific Partnership are bad for American workers, the fundamental problem is not that they are "free trade" pacts, but that they "are designed to create a separate, global set of rules to protect foreign investors and encourage the outsourcing of production from the United States to other countries."
Unlike the earliest generation of "free-trade agreements" – which focused on reducing or eliminating tariffs and duties that stifled trade — these newer pacts are more comprehensive. As Scott explains, they "contain 30 or more chapters providing special protections for foreign investors; extending patents and copyrights; privatizing markets for public services such as education, health, and public utilities; and 'harmonizing' regulations in ways that limit or prevent governments from protecting the public health or environment." When critics of the TPP conflate their criticism of that pact with their criticism of "free trade," they miss an essential element of the TPP that has disaffected many otherwise loyal supporters of earlier-generation agreements that truly focus on deregulation of "trade" per se, he notes.
The Role of China
Two decades ago, when NAFTA was born, China had only a faint presence in the global economy, and was not yet even a member of the World Trade Organization. However, the share of U.S. spending on Chinese goods rose nearly eight-fold between 1991 and 2007. By 2015, U.S. trade in goods and services with China totaled $659 billion— with the U.S. importing $336 billion more than it exported. China has become the U.S.'s top trading partner for goods — a development never anticipated at the signing of NAFTA. And yet, NAFTA continues to attract the lion's share of the blame among U.S. critics of globalization, despite the fact that the U.S. and China have yet to sign any bilateral free-trade treaty.
"NAFTA did foster greater U.S.-Mexican integration and helped transform Mexico into a major exporter of manufactured goods." –Robert Blecker
How is that possible? In a recent study that de-emphasized the impact of NAFTA on the U.S. economy, economists David Autor (MIT), David Dorn (University of Zurich) and Gordon Hanson (University of California, San Diego) stress the role of China's emergence on job growth and wages in the U.S. In the study, published by the National Bureau of Economic Research, they write: "China's emergence as a great economic power has induced an epochal shift in patterns of world trade. Simultaneously, it has challenged much of the received empirical wisdom about how labor markets adjust to trade shocks. Alongside the heralded consumer benefits of expanded trade are substantial adjustment costs and distributional consequences…. Exposed workers experience greater job churning and reduced lifetime income. At the national level, employment has fallen in U.S. industries more exposed to import competition, as expected, but offsetting employment gains in other industries have yet to materialize. Better understanding when and where trade is costly, and how and why it may be beneficial, are key items on the research agenda for trade and labor economists."
As Robert Blecker, an economist at American University, notes, "Contrary to the promises of the leaders who promoted it, NAFTA did not make Mexico converge to the United States in per capita income, nor did it solve Mexico's employment problems or stem the flow of migration." However, "NAFTA did foster greater U.S.-Mexican integration and helped transform Mexico into a major exporter of manufactured goods."
The benefits for the Mexican economy were attenuated, however, by heavy dependence on imported intermediate inputs in export production, as well as by Chinese competition in the U.S. market and domestically. The long-run increase in manufacturing employment in Mexico (about 400,000 jobs) was small and disappointing, while U.S. manufacturing plummeted by 5 million — but more because of Chinese imports than imports from Mexico. In both Mexico and the United States, real wages have stagnated while productivity has continued to increase, leading to higher profit shares and a tendency toward greater inequality."
Blaming NAFTA for all of these disturbing problems may make some NAFTA critics feel good, but as trade researchers have learned in recent years, the growing complexity of today's economic challenges defies any simplistic explanations.
August 3rd, 2015
In the past three to four years, one of the commonly observed trends in North America manufacturing has been reshoring or repatriation of the manufacturing industry.
Nexant defines repatriation or reshoring as bringing back of manufacturing from overseas to North America, resulting in the displacement of process imports into the region.
Nexant conducted a survey of the plastics industry, in collaboration with Plastics News, to understand reshoring trends and the effect on the North American market. Nexant received about 200 survey responses from compounders, fabricators, equipment suppliers and toolers.
About 70 percent of the survey responses mentioned that they had either reshored or were planning to reshore in the near future.
One of the major reasons quoted for reshoring is the rising labor costs overseas, particularly in China. Wages in China have almost doubled in the past decade, while U.S. wages have stayed relatively flat.
Low cost natural gas and the diminishing price gap between the U.S. and Southeast Asian polyethylene prices is making North America more cost competitive for manufacturing. However, about one third of the fabricators mentioned that they would not consider reshoring to North America as they supply Asian markets and the logistic costs would not make sense if manufacturing was moved back to North America. Also, it is not critical to reshore in cases where the product quality is not crucial, which has been identified as another driver to reshoring.
Cost competitive
Nexant compared the cost of production plus logistics cost for delivering polyethylene blown films and polypropylene injection molded items in the U.S. market in 2014 and 2019 for manufacturing in the U.S. Gulf Coast, Mexico and China. Repatriation activities are being observed in blown films and injection molding segments particularly.
In 2014, for polypropylene injection molded utensils, even though the cost of production was the lowest in China, when transportation cost was added, Gulf Coast becomes more attractive as a manufacturing location for supplying the domestic U.S. market.
By 2019, the Gulf Coast and Mexico is expected to become more cost competitive for manufacturing, as a result of rising labor costs in China and declining price gap between the Gulf Coast and China polypropylene prices.
U.S. propylene markets have tightened appreciably in recent years aggravated by the rush towards lighter feedstock at crackers and reduced availability of supplies from the refinery. New investments in propane dehydrogenation units by companies such as Ascend Performance Materials, Enterprise Products, Dow Chemical and Formosa in the U.S. are set to lengthen supplies by 2020, restoring markets to a more balanced position and bringing U.S. prices on par with Asian polypropylene prices.
Demand growth?
The impact of reshoring on domestic polyolefin demand in North America will not be significant; with about 10 percent of the total 4 million tons demand growth from 2014 to 2020 driven by reshoring activities.
Polyethylene accounts for the lion's share of polyolefin reshoring. The majority of the growth will be in the injection molding segment as it is an automated process, and requires less labor; providing manufacturing advantage to the United States. Repatriation is occurring in the automotive, packaging and appliances sectors of injection molding.
NexantThinking's recently published report "Impact of Reshoring on North American Polyolefin Demand" provides an in-depth analysis into Nexant's reshoring survey results, reshoring drivers and challenges, reshoring measurement indices, North America's manufacturing cost competitiveness and impact on polyolefin applications growth.
December 5th, 2013

Faced with rising wages in China and high shipping costs, many businesses are finding manufacturing close to home more appealing. But despite its advantages, Mexico has problems.
By Shan Li
4:37 PM PST, November 29, 2013
Oceas Verona Orocio inspects the latest-model drone at the 3D Robotics manufacturing plant in Tijuana. The company's drones were formerly made in China. (Don Bartletti, Los Angeles Times / November 30, 2013)
TIJUANA — In an industrial park five miles east of downtown Tijuana, Ariel Ceja toils in a white room bustling with assembly workers hunched over blue tables.
A master scheduler, Ceja is in charge of all steps of production at this factory nestled inside a cavernous warehouse. A cluster of anonymous buildings surround the facility. Nearby are pitted roads, and just a few minutes away by car is the Tijuana airport and a university.
San Diego-based 3D Robotics moved into this once-vacant spot in June, producing affordable drones and electronic parts destined for customers in the U.S. and around the world.
It is just one of many American companies streaming to Mexico to open high-tech factories in a reversal of the outsourcing trend in years past. Called nearshoring, businesses are moving production to Mexico, Canada and other nearby countries to take advantage of their proximity to the U.S.
"Recently I have been seeing more American companies bringing production here," said Ceja, who started working for 3D Robotics a month ago. During the 1990s, "there were more Asian companies coming in, Japanese, Korean, but that has changed."
It's not just in Tijuana. Manufacturing plants are also opening in Mexican cities such as Guadalajara and Mexico City, bringing a wave of new jobs to a country recovering from the economic downturn and still fighting constant drug violence.
From 2009 to 2012, foreign investment in Mexico jumped more than 50% to $7.4 billion, and exports from foreign-owned factories also grew 50% to $196 billion, according to one industry group that tracks maquiladoras, or assembly plants in Mexico that are owned by foreign companies. After plunging during the economic recession, employment also has jumped 25% to more than 2 million. According to an economic study from South/East San Diego, themaquiladora industry is one of Tijuana's biggest employers, behind businesses linked to its border crossing.
"Sometime in the last year, we reached a crossover point where it became cheaper to make a lot of goods in Mexico than in China," said Hal Sirkin, a senior partner at Boston Consulting Group. "A lot of American companies are looking or moving."
The global recession and its aftermath led companies to rethink their supply chain. Faced with rising wages in China and high oil prices, many are reconsidering the appeal of manufacturing close to home, especially small and medium-size businesses without the bargaining clout of Apple and Wal-Mart.
Those businesses are finding a skilled workforce for high-tech manufacturing in Mexico. The country has doubled the number of post-secondary public schools, many devoted to science and technology. Former President Felipe Calderon last year bragged that Mexico was graduating 130,000 technicians and engineers a year, more than Germany or Canada.
The educated labor pool has attracted the car industry. Mexico has gained at least 100,000 auto-related jobs since 2010, according to a Brookings Institution report. Nissan, Honda, General Motors and Ford have all announced plans to expand in coming years.
3D Robotics, which makes drones and parts priced up to $730 for civilians and tech enthusiasts, is among the start-ups drawn to Mexico's low costs and proximity to the U.S. The company once manufactured its drones and kits in Southern California and China.
But Chief Executive Chris Anderson said making products overseas was a lengthy process that meant waiting for months for merchandise to come on ships. Chinese factories also required bulk orders that tied up a lot of the company's capital and prevented engineers from innovating quickly, which is vital in a tech sector such as drones.
"We decided it didn't make sense at our scale and pace of innovation to ramp up in China," Anderson said.
Instead, the company looked south.
3D's first Mexico factory in 2011 was in the three-bedroom Tijuana apartment of general manager Guillermo Romero, who spent the first months of the test run in Mexico soldering parts and assembling drones in his living room along with one employee.
"We started with some benches and soldering stations you can buy anywhere," Romero said. "We were like, 'Let's see what happens.'"
Sales of drones assembled in Mexico quickly grew after Romero got the hang of putting them together, and 3D moved into its first manufacturing space last year.
The last of the manufacturing equipment was trucked to Tijuana this spring, when the company moved to its current 12,000-square-foot facility. American engineers in San Diego design drones that are crafted almost completely by about 60 assembly workers in Tijuana.
A walk through the cavernous warehouse that houses the factory shows 3D's quick expansion. On the second floor, a newly completed call center opened about a month ago, bringing customer service in-house for the first time. Inside the assembly room, workers solder circuit boards, attach plastic arms and test the flying machines.
"Mexico is very flexible. You can start projects here and grow them," Romero said. "It's very good for start-ups."
For California companies, Mexico can be an especially attractive bet, analysts say. The ability to order in small batches means that designs can be changed quickly and production can be revved up and slowed down in a matter of days instead of months.
That can be invaluable during the holidays, as San Bernardino-based Cannon Safe learned.
On Black Friday in 2008, the safe manufacturing company received a panicked call from a major retailer that had drastically slimmed down its inventory in response the financial crash, President Aaron Baker said. But shoppers were scooping up their safes, prompting the chain to issue thousands of rain checks that it had to quickly honor.
Cannon's Mexico facility was able to increase production and deliver new merchandise within four days, compared with weeks or months if the safes had come from China, Baker said. "That was our 'aha' moment."
Today, about 60% of the company's safes are made in Mexico, nearly double the production levels five years ago. Meanwhile, its China production has dropped by half, Baker said.
Although wages are higher in Mexico than in China, the relative ease of doing business and proximity can bring costs on par or even lower. Companies find that they don't lose valuable time waiting for shipments. Deliveries can also be routed to another port or simply brought by truck when problems crop up, such as the eight-day strike that paralyzed the ports of Los Angeles and Long Beach last winter.
Companies looking to bring production closer to home rank Mexico as their No. 1 choice, according to a survey from consulting firm AlixPartners.
The tipping point may have come last year when manufacturing costs in Mexico, when adjusted for productivity, dropped below those in China, according to a Boston Consulting Group report. Within two years, the average cost of production in Mexico will be 6% below China and as much as 30% lower than countries such as Japan and Germany.
"Companies are bringing back parts of manufacturing to Mexico. They are saying, 'We want our manufacturing process close to our engineers, we want our inventory next to our customers so it's easier to ship,'" said Joe Mazza, a partner at advisory and accounting firm McGladrey in Los Angeles. "There are also many companies in China that are not exiting China, but reducing their manufacturing and bringing some to Mexico."
With all its advantages, Mexico still has its fair share of problems. Companies that don't produce their own goods can have a hard time finding the right third-party manufacturer in a country that can't compete yet with China's dense supplier base and strong manufacturing infrastructure. Mexico also just passed fiscal reforms that include raising taxes on U.S.-owned companies and other businesses, increasing worries that foreign firms might leave the country.
Despite these challenges, more U.S. companies will consider locating factories in Mexico in the coming years, analysts said.
"This is the return of manufacturing in Mexico," said Scott Stanley, senior vice president of NAPS, which aids companies setting up factories in Mexico. "Every month it seems like there are more and more companies moving. There is no sign of that trend slowing down."
Copyright © 2013, Los Angeles Times
November 9th, 2013
Executive Summary

Amid evolutionary changes in economics, leadership and policy, Mexico has emerged as an appealing alternative to China for U.S. companies looking to expand or relocate their manufacturing facilities. Wages have been sharply and steadily rising in China over the past decade, just as Mexico's manufacturing landscape has undergone a dramatic shift, marked by high-tech manufacturing hubs that are synchronous with American manufacturing needs.The erosion of China's comparative advantage over Mexico has resulted in global investment implications, with multiple industries positioned to benefit — or suffer — from the shift. In this paper, we highlight the economic, political and manufacturing climate in both countries, address relevant energy-supply and safety concerns, and identify emerging winners and losers from an investment standpoint.
The Economic and Political Backdrop
Although China has been a key driver of global growth over the past several years, it has recently experienced a slowdown,particularly within the manufacturing sector. At an April meeting of the International Monetary Fund's International Monetary and Financial Committee, Gov. Zhou Xiaochuan of the People's Bank of China said that his country's 7.7% year-on-year GDP growth for the first quarter represented "a reasonable growth track," with expected 2013 growth of 7.5%.1 While that outshines the tepid economies of many developed nations, it pales in comparison with the 10%-plus growth rates that China has enjoyed over much of the past decade. Many investors are also monitoring the monthly Purchasing Managers' Index,which has been hovering precariously near the 50 level of demarcation between expansion and contraction.Also during April, China was the target of pessimistic comments from two major ratings agencies. Moody's lowered its outlook on China's government bond rating to stable from positive, while Fitch Ratings downgraded China's long-term local currency credit rating to A-plus from AA-minus, both noting risks associated with excessive local government borrowing.2
The Chinese government, under the new leadership of President Xi Jinping, is well aware of these risks and is attempting to mitigate them, in part by increased austerity. Most recently, it tightened its controls over bond sales by local government financing vehicles, requiring them to have a rating above AA-plus.3 But other issues in the country, including suspected cyber attacks on the U.S. and renewed emphasis on strengthening China's military, have stirred some concerns in the West.
Across the ocean, Mexico's economy has also been struggling. For the first quarter, its GDP edged up a mere 0.8%, well below the 3.2% growth experienced in the fourth quarter of 2012. However, the slowdown was largely attributable to a calendar effect from an early Easter holiday and a 10% drop in public spending in the wake of December's leadership transition.4 The country also posted a 4.9% drop in industrial output in March,in tandem with an easing in U.S. manufacturing growth.5 This has prompted speculation that Banco de Mexico (Banxico), the country's central bank, will lower interest rates again this year; it last reduced its key rate by a half-point to 4% in March, the first cut in more than three years.
Nevertheless, sentiment about Mexico remains largely optimistic, at least over the long term. While growth expectations have been widely tempered for 2013, many investors are looking beyond that for compelling potential. In early May, Fitch lifted its rating on Mexico's sovereign foreign currency credit rating to BBB-plus, the country's first ratings upgrade since 2007, buoyed in large part by optimism about the country's reform agenda.6
It is that ambitious reform strategy, promoted by Mexico's new president, Enrique Peña Nieto, that has helped to strengthen the peso and underlined the country's favorable investment climate. He has tackled labor reform, reining in some powers of the teachers' union, and he has proposed to open the energy and telecommunications industries to more competition and private investment, thereby breaking up monopolies. If all of these reforms indeed reach fruition, Banxico estimates that GDP could hit 6%.
Manufacturing Climate
Amid these evolutionary changes in economics, leadership and policy, Mexico has emerged as a viable, appealing alternative to China for U.S. companies looking to expand or relocate their manufacturing facilities. According to the World Bank's 2013 Ease of Doing Business Index, which measures business regulation environments across 185 economies, Mexico ranked No. 48, up from No. 53 in the previous year, while China held steady at No. 91.7A crucial factor in determining companies' outsourcing decisions is wages, which have been sharply and steadily rising in China over the past decade, as shown in Exhibit 1.
Most of China's manufacturers are situated along the coastal provinces, which offer ready access to ocean transport as well as supply-chain logistics, but with a costly labor pool and expensive land. The government has been taking aggressive action to rein in soaring real-estate prices; for example, Beijing recently began imposing a 20% capital-gains tax on existing-home sales. Moving facilities inland will not solve the issue of rising costs, as wages are not significantly different there and transportation infrastructure is inadequate, as it can cost more to ship goods from China's interior to its coast than from Shanghai to New York.8
By contrast, Mexico's manufacturing landscape has undergone a dramatic shift in geography. As assembly-for-export plants, called maquiladoras, in the border states suffered from the effects of economic recession and rising drug-related violence,companies nimbly shifted their focus to Mexico's interior,supported by an attractive cost of living as well as by decent infrastructure and transportation. In fact, in the past three years, manufacturing jobs in the central states of Guanajuato, Aguascalientes, Queretaro and San Luis Potosi have climbed 30%, largely on the back of growing auto and aerospace businesses, which have in turn committed to providing those local communities with relevant educational opportunities.9
In tandem with this change, the importance of Mexico's once-dominant textile industry has diminished significantly,replaced by high-tech manufacturing hubs for the automotive and aerospace industries, clearly synchronous with American manufacturing needs. The U.S. is now using its neighbor to the south as "a just-in-time, conveniently located and inexpensive sourcing partner, rather than a competitor," according to Morgan Stanley Research.10
Comparatively speaking, there are other notable differences between the two countries' workforces. Mexico's laborers generally work no more than 48 hours a week, as mandated by federal law, and then go home at night, in contrast to many Chinese workers, who live in on-site dormitories, work lengthy shifts and return home only for the New Year holiday.
Demographics are another contrast, as Mexico's population skews young, while China's one-child policy has effectively shrunk the upcoming labor pool.
Energy Supply
Another potential advantage for Mexico's manufacturing sector is its proximity to cheap natural gas, as the country uses the fuel for 46% of its energy, according to Morgan Stanley Research. However, much of this is virtually untapped, as the production monopoly of Petroleos Mexicanos, also known as Pemex, has left as much as 1 trillion cubic feet of gas reserves sitting idle, as private-sector development is prohibited.11Meanwhile, Mexico's demand for the fuel has continued to soar, forcing Pemex to effectively ration limited supplies to its largest customers because of capacity constraints.This could all change if Peña Nieto has his way, resulting in a constitutional change to allow for asset sales in shale gas and deepwater exploration and downstream petrochemical auctions. That could unleash substantial foreign direct investment in the country's energy sector, as Mexico has one of the world's largest shale gas resource bases, according to the Energy Information Administration.12
On the other hand, China is the world's largest energy consumer,and its largest producer and consumer of coal, which powers much of its electricity generation. Natural gas accounts for only 4% of China's energy consumption, according to the EIA. The country also pays more for natural gas: an average of $10.77 per million Btu on LNG imports in 2012, compared with the recent benchmark Henry Hub price in Louisiana of $3.80 per million Btu. However, China is pursuing cleaner energy sources to combat rampant pollution concerns.
Safety Concerns
Both Mexico and China have a bit of an image problem when it comes to safety. For Mexico, it's been the alarming rise in violence since former President Felipe Calderon's war on drug cartels began in 2006. According to a travel warning issued by the U.S. State Department in November 2012, citing Mexican government data, "47,515 people were killed in narcotics-related violence in Mexico between Dec. 1, 2006, and Sept. 30, 2011,with 12,903 narcotics-related homicides in the first nine months of 2011 alone." The warning also cited gun battles occurring "in broad daylight on streets and other public venues" as well as the prevalence of carjackings and highway robbery in the border regions.13 However, February 2013 marked a three-year low in the country's murder rate, which remains below that of Brazil.Yet Mexico's violence problem can be a scary proposition for companies looking to locate facilities there. This isn't lost on government officials, although Peña Nieto's plan has amounted to little beyond naming a security adviser and targeting economic improvement to reduce crime. Something else must be done. In fact, in an article published last year by CNBC.com, Andrew Selee, director of the Mexico Institute, a Washington think tank, summarized the resulting chilling effect on business: "It's like the Mexican economy is driving with the emergency brake on. You can only imagine if the violence weren't going on,its growth could be extraordinary."14
China has encountered challenges of a different sort when it comes to worker and consumer safety. Its labor problems have come to the forefront in recent years, after a number of incidents, including explosions and improper use of toxic chemicals, resulted in many injuries and even deaths at Chinese factories tasked with producing iPhones and iPads. One manufacturer made headlines in 2010 after a spate of employee suicides prompted the company to install worker hotlines and even safety nets on some of its buildings to catch people who jumped. A much-cited New York Times article detailed the working conditions at some of these plants, citing 12-hour workdays, six-day workweeks and dormitory accommodations of 20 people in a three-room apartment.15
Product safety has been another ongoing concern, peaking in 2007 with the Food and Drug Administration's ban on imported Chinese toothpaste because it may contain harmful levels of diethylene glycol, which is used in antifreeze, and a massive recall of more than a million Chinese-made toys that may contain high levels of lead. As recently as this year, though,China has faced related issues, such as the discovery of cadmiumin its rice supply and more recalls of infant formula because of contamination problems. China's leaders have been attempting to respond to concerns more transparently, especially those related to environmental issues.16
Less imminently dangerous, but also problematic for business in China are counterfeit production and a perceived lack of court enforcement for intellectual property rights. The advantage here goes to Mexico, according to Morgan Stanley, which noted that, "Mexico offers a more attractive environment for multinational corporations concerned about piracy, copyrights and protection from industrial espionage than some of its Asian competitors."17
A Matter of Convenience
Beyond economic slowdowns, leadership transitions, labor costs, safety concerns and energy sources, some decisions comedown to what is easiest for a company and its executives. When choosing between Mexico and China as an outsourcing partner, American business leaders may decide that all else being equal, Mexico is simply more convenient. Travel times and expenses are markedly lower, work visas are easier to obtain, and the language and cultural barriers are not as high. Currency is also in Mexico's favor, as the peso floats along with the U.S. dollar, while China's currency manipulation has been a sore spot in international trade talks. Mexico also operates on similar time zones and holiday schedules as the U.S., meaning fewer overnight conference calls and better-aligned availability.

Investment Implications

As outlined above, China's comparative advantage versus Mexico has eroded on multiple fronts. This change in competitive positioning is resulting in global investment implications, with potential winners and losers dynamically emerging.We believe multiple industries are positioned to benefit from this shift, including:ƒƒ
North American resource companies. As Mexican manufacturing expands, factories there will consume more natural resources. To meet this rising demand, North American shale oil and gas may represent a material portion of Mexico's energy supply, which would boost both infrastructure suppliers and hydrocarbon producers.
North American retailers and manufacturers. They can capitalize on both the cost savings of manufacturing in Mexico and shorter lead times in the supply chain. In particular, shorter lead times can be crucially important in helping companies respond to their customers' needs in this increasingly competitive world.ƒƒ
Industrial automation companies. China needs to find ways to reduce its labor costs, and one proven method of doing so is by automating factory processing. The penetration of automated factories in China is low compared with the developed world.
Meanwhile, other industries will feel a negative impact from the change, including:
The ocean-transportation industry. As China loses market share to Mexico, fewer goods will be shipped from the Asia-Pacific region to the U.S. and other countries in the Western Hemisphere. As this industry has high fixed costs, any loss of volume will pressure margins.ƒƒ
Chinese retail plays. For years, Chinese consumer wages have grown at double-digit rates, fueling the retail industry. As wage growth slows, the risk is that Chinese retailers will expand too fast, leading to an oversupply of retail space.
Conclusion
We believe that U.S. and multinational manufacturers will continue to evaluate Mexico's potential as a manufacturing center and likely come away with favorable conclusions. The country's costs and wages remain reasonable, and its proximity to the U.S. offers numerous benefits. In addition, Mexico's renewed reform efforts, if ultimately implemented, could significantly boost its economic growth. At the same time, China's wages and real estate prices continue to rise, making it a less attractive alternative for American outsourcing. However, economic growth in both countries is rather tenuous, and safety is still a concern. As these dynamics evolve, we expect an ongoing shift in manufacturing from China to Mexico, with winners and losers emerging across the global landscape.

References
1Statement by the Honorable Zhou Xiaochuan, Governor of the IMFfor China, at the 27th meeting of the International Monetary and Financial Committee, Washington, D.C., April 20, 2013.
2Ian Chua and Pete Sweeney, "Moody's lowers China outlook after Fitch downgrade," Reuters, April 16, 2013.
3Jane Cai, "China tightens rules for local government debt sales," South China Morning Post, May 8, 2013.
4Charles Roth, "Mexico's First Quarter GDP Down, but Far From Out,"The Wall Street Journal, May 17, 2013.
5Alexandra Alper, "Mexico March industrial output contracts most in 3 yrs," Reuters, May 10, 2013.
6Michael O'Boyle and Krista Hughes, "Fitch upgrades Mexico to BBB-plus on reform momentum," Reuters, May 8, 2013.
7For information on the Ease of Doing Business Index methodology, please click here: http://www.doingbusiness.org/~/media/GIAWB/Doing%20Business/Documents/Annual-Reports/English/DB13-Chapters/Ease-of-doing-business-and-distance-to-frontier.pdf
8"The end of cheap China," The Economist, March 10, 2012.
9Krista Hughes, "Mexican manufacturing: from sweatshops to high-tech motors," Reuters, April 9, 2013.
10"US Manufacturing Renaissance: Is It a Masterpiece or a (Head)Fake?" Morgan Stanley Research, April 29, 2013.
11Carlos Manuel Rodriguez, "U.S. shale glut means gas shortage for Mexican industry: Energy," Bloomberg, Sept. 4, 2012.
12Mexico analysis, U.S. Energy Information Administration, last updated Oct. 17, 2012.
13"Travel Warning: Mexico," U.S. Department of State, Bureau of Consular Affairs, Nov. 20, 2012.
14Deborah Caldwell, "Crime explodes — but an economy booms," CNBC.com, Sept. 18, 2012.
15Charles Duhigg and David Barboza, "In China, human costs are built into an iPad," The New York Times, January 25, 2012.
16Te-Ping Chen, "Threat to rice fuels latest Chinese uproar," The Wall Street Journal, May 21, 2013.
17"US Manufacturing Renaissance: Is It a Masterpiece or a (Head) Fake?" Morgan Stanley Research, April 29, 2013.

Disclosure

Any statements of opinion constitute only current opinions of The Boston Company Asset Management, LLC (TBCAM), which are subject to change and which TBCAM does not undertake to update. Due to, among other things, the volatile nature of the markets and the investment areas discussed herein, they may only be suitable for certain investors.This publication or any portion thereof may not be copied or distributed without prior written approval from The Boston Company Asset Management, LLC (TBCAM). Statements are correct as of the date of the material only. This document may not be used for the purpose of an offer or solicitation in any jurisdiction or in any circumstances in which such offer or solicitation is unlawful or not authorised. The information in this publication is for general information only and is not intended to provide specific investment advice or recommendations for any purchase or sale of any specific security.Some information contained herein has been obtained from third party sources that are believed to be reliable, but the information has not been independently verified by TBCAM. TBCAM makes no representations as to the accuracy or the completeness of such information.
No investment strategy or risk management technique can guarantee returns or eliminate risk in any market environment.
The Boston Company Asset Management, LLC is a global, performance-driven investment management firm with a collaborative, entrepreneurial spirit. We are committed to providing creative investment solutions for our clients, backed by top-notch fundamental and quantitative research.
October 26th, 2013
'Level of activity in Mexico is insane'
Paul Lienert
Automotive News | October 26, 2013 – 7:29 am EST
DETROIT (Reuters) — The Mexican auto industry is about to go on a $10 billion factory building spree, illustrating the nation's rising economic challenge to rivals from the United States to China.

Japanese and German auto manufacturers are spearheading the drive, say parts suppliers and researchers who see more auto factories built south of the border than in the United States between now and the end of the decade.

The United States will consume the vast majority of the new cars, but Mexico's domestic market has rebounded from a long slump, and in a sign of Mexico's growing global role, auto exports outside of North America will rise faster than those to the United States.

BMW AG, Toyota Motor Corp. and Daimler AG's Mercedes-Benz are expected to announce at least $2 billion of deals in the next year or two, according to supplier and other industry sources. That's on top of nearly $6 billion in announced plants by Nissan Motor Co., Honda Motor Co., Mazda Motor Corp. and Volkswagen AG.

U.S. automakers, all of whom have been building cars in Mexico since before World War II, will spend another $1 billion or more to upgrade Mexican plants. And Nissan and VW also are considering expansions at existing factories that could total $1 billion or more, according to sources familiar with their plans.

Mexico "is quickly turning into the China of the West," said Joseph Langley, a senior analyst at Michigan-based research firm IHS Automotive, pointing to Mexico's low wages, a strong supply base and a global web of free-trade agreements.

Mexican auto exports beyond North America are growing even faster than those within, according to the Federal Reserve Bank of Chicago. They accounted for nearly 30 percent of the 2.4 million exported last year. Altogether Mexico built 3.0 million cars and trucks, according to Automotive News, compared with 10.4 million in the United States and 2.5 million in Canada.

By 2020, Mexico will have the capacity to build one in every four vehicles in North America, up from one in six in 2012, according to IHS.

The investment shift has implications for auto jobs and labor unions north of the border, particularly in Canada, which will see a 20 percent decline in production, IHS projects. Output will soar 62 percent in Mexico.

U.S. auto production will rise 12 percent, and Detroit-based automakers are expanding domestic production by ramping up the pace at existing factories to as many as three shifts running six days a week, said IHS. By those calculations, Mexico is building more auto plants than in the United States or Canada through 2020.

Lower costs

"It's all about lower production costs and lower export costs," said Michael Tracy, principal at the Agile Group, a Michigan-based auto consultancy. "That's what Canada used to be — the place for low-cost manufacturing and shipping. Now, everybody is targeting Mexico."

Mexico's economy is seen growing faster than Brazil's next year, underscoring the success of Mexico's export-driven model versus regional economic powerhouse Brazil's more protectionist policies. The promised auto investment could help Mexico challenge regional dominance by Brazil. Analysts are warning of excess Brazilian auto production capacity within five years.

Suppliers say the Detroit auto makers, with more than half the production capacity in Mexico, have not signaled any plans to expand vehicle output there. But General Motors and Chrysler this year have said they will install additional engine and transmission production capacity in Mexico.

In the competition for jobs with the United States and Canada, "Mexico's momentum, combined with its increasingly dense and capable supply chain, its persistent cost advantage and its trading relationships may give it a leg up," said Brookings Institution researchers in a report released last week.

Auto employment in the U.S. South, where Japanese, German and Korean automakers all operate non-union plants, is holding relatively steady at 18 percent of North American auto workers, according to Brookings.

$12 an hour

Pay ranges as low as $12 per hour for temporary workers at plants in the U.S. Southeast, compared with about $35 an hour for skilled union veterans at U.S.-owned plants. Union workers in Canada on average are paid even more. A year ago, GM CEO Dan Akerson described Canada as "the most expensive place to build a car in the world."

But at around $2.50 an hour, manufacturing wages in Mexico are nearly 20 percent cheaper than in China, according to a mid-year Bank of America study. That study put U.S. manufacturing wages at just under $20 an hour, on average.

A shortage of trained engineers and concerns about crime and security may hold back Mexico, according to research firm PwC Autofacts.

Energy costs also are considerably higher than in the United States, but they are lower than in China, according to Boston Consulting Group. And because of Mexico's proximity to the United States and Canada, transportation and logistics costs are lower than for parts coming from China.

Largest footprint

The largest producer in Mexico, Nissan, opens its third factory next month, the $2-billion Aguascalientes No.2. Nissan built 683,520 cars in Mexico last year, and the new plant will add capacity for 250,000 more, mostly compact models such as the Nissan Sentra for North America and other markets, company officials said.

Moreover, an expansion of Aguascalientes No.2 is already in planning, according to two sources familiar with Nissan's plans. Slated to open in 2016, the sources said, it likely will be dedicated to production of compact luxury vehicles for Infiniti and Mercedes-Benz, which has a platform- and engine-sharing agreement with Nissan.

Nissan said it had nothing to announce, while a Mercedes spokeswoman said joint production of compact cars was an option, but that no decision had been made.

Nissan also is expanding a complex in Cuernavaca, which will take the automaker's total capacity in Mexico to 1.1 million vehicles a year by 2020, two supplier sources said.

Nissan's closest rival south of the border is Volkswagen, which opened a complex in Puebla in 1967. A new $550-million engine plant in Silao, as well as a $1.3-billion assembly complex in San Jose Chiapa that is slated to be opened in 2016 by VW's Audi subsidiary, will raise total VW group annual capacity by 100,000 vehicles to 850,000 by 2020, according to IHS.

VW and Toyota are battling for global sales leadership, but the Japanese automaker lags well behind its rivals in Mexico, where it has only a small truck assembly facility in Tijuana.

Now, the automaker is scrambling to catch up with its competitors, according to two supplier sources who say Toyota is actively shopping for a site. Toyota executives in recent months have said the company needs additional production capacity in Mexico, without providing specifics. A Toyota spokeswoman said the company "would not comment on any potential plant announcement" in Mexico.

Luxury manufacturing

BMW, which operates a U.S. assembly plant in South Carolina, also is shopping prospective plant sites south of the border, according to Mexican government officials.

Supplier sources said BMW already has mapped out a production timetable for Mexico, with a tentative plan to begin assembly operations in late 2017, ramping up annual capacity to 200,000 by 2020.

A BMW spokesman said he had nothing to confirm.

Other vehicle and parts manufacturers are expected to set up shop or expand existing facilities in Mexico by 2020, said Tracy, of the Michigan-based auto consultancy.

IHS's Langley summed it up: "The level of activity in Mexico is insane."
Nissan Mexicana in July celebrated building 4 million vehicles at its plant in in Aguascalientes, Mexico. The plant started operations Nov. 13, 1982.
August 19th, 2013

– See more at: http://www.aircargoworld.com/Air-Cargo-News/2013/07/mexico%E2%80%99s-economy-sprouts-wings/3014703#sthash.or6wPYKG.dpuf
By Adina Solomon
Mexico's economy is evolving. Its GDP has risen over the past few years, and its people are becoming wealthier. Within five years, Mexican factories could produce up to US$60 billion in output annually, according to the Boston Consulting Group.
The business strategy adviser also reported that in 2012, average manufacturing costs in Mexico, adjusted for productivity, dropped below those of China – and are set to keep dropping. Mexico has 44 free-trade agreements, more than any other country.Butch Hensley, president of Amado Trucking in Arizona, knows what Mexico's growth looks like.
"Today I'm seeing freeways built where there were cattle trails 10 years ago," Hensley says.
Amado, which trucks to airports in the Southwestern U.S. and Mexico, is the exclusive Mexican handler for ShipHaus, a freight forwarder based at Phoenix-Mesa Gateway Airport in Mesa, Ariz.
"It's incredible," Hensley says. "There's excess of 100 million consumers in Mexico, and that's about 30 percent of what we have in the U.S., so it's a tremendous market."
Tell that to Aeromexico or Lufthansa, American Airlines or United Airlines. These carriers move thousands of tonnes a year between Mexico and the rest of the world.
"If you look at what we're shipping from Mexico, it really runs the gambit," Tony Randgaard, manager of cargo marketing at United Airlines, says. This includes pet and human remains services into and out of Mexico.
The airlines and forwarders interviewed move much of the same cargo to and from Mexico: textiles, consumer electronics, automotive parts, luxury goods and perishables. Many electronics come from Guadalajara, whose nickname is the Silicon Valley of Mexico.
In the last few years, major U.S. manufacturers have been providing the raw materials for electronics to China-based companies, who do part of the manufacturing, Hensley explains. Then the parts come back to the U.S. and go to Mexican companies, who complete the value-added features. The electronics then return to the U.S. under the North American Free Trade Agreement.
Perishables frequently shipped include mangos, lemons, avocados, limes, papaya, herbs and seafood.
"Agribusiness has just grown at an insane rate over the last 10 years," Hensley says.
The array of products goes to places such as Germany, Japan, the U.S. and Canada. Curt Fischer, regional manager for Mexico and Central America for Lufthansa Cargo, says three times as much Lufthansa cargo – 90,000 tonnes a year – goes from Europe to Mexico than vice-versa.
This is because Mexico has a strong import market whereas much of the export industry targets nearby markets in North and South America, says Fischer, who is based in Mexico.
Lufthansa has worked on ramping up its service in the country, serving Mexico City and Guadalajara to Frankfurt.
"Mexico is always full of surprises," Fischer says when asked of hurdles in transporting airfreight.
Benito Juárez International Airport in Mexico City is already crowded and cannot grow any further.
"Meanwhile, the city has grown all around it," Fischer says. "Mexico City is one of the largest cities in the world, and the airport, which used to be out of the city at one time, is now in the middle, more or less. So there's no way to go any further. There's no way to put in any additional runways, but also within the warehouse area, there is no space for growth."
Fischer says Mexico's drug cartel problem presents security challenges for airlines and shippers.
"Additional security measures always will hinder the free flow of air cargo. So this is something we have to cope with," he says. "Especially also our customers that have to cope with longer handling times."
Antonio Gomez Elorduy, Aeromexico Cargo vice president for the U.S., Asia and Canada, says competition from other carriers and rising fuel costs hurt the airline. He also highlights Aeromexico's move toward E-freight.
"One of the issues that we have is the customs side," Gomez Elorduy says. "There's a lot of things that in Mexico are done with a lot of paper and involving a lot of people in imports and exports, so I think that now that we are one step ahead with the government to try to develop that process with their help. I think it's going to be an improvement in Mexico because we're a little bit late in that – let's say it that way – against the other carriers."
Randgaard of United says the Mexican air cargo market "hasn't jumped into E-freight." He also points out the importance of having specific and precise documentation.
"There's not a lot of tolerance in shipping to and from Mexico. You really have to ensure that your import documents, your pet or your human remains permits or certificates, are exact, and you really need a lot of precision, or you're going to experience delays, and our customers are not going to be happy with that," he says. "I think that there's a number of countries around the world that you need to make sure that you've got all your ducks in a row, and certainly Mexico is one of those."
Carmen Taylor, American Airlines managing director for cargo sales for Latin America, and Hensley of Amado Trucking say if you have experience and the proper documentation, it's a fluid process.
"Do I hear about the Mexican Customs holding an important shipment for days and days like I hear in other countries? I haven't heard that in many years," Taylor says. "It's because we have learned to do business."
Mike Barclay, owner and director of business development at ShipHaus, says with the increased flow of goods into and out of Mexico, aircraft will have capacity issues. Some freight will need to sit and wait for additional flights. Barclay and Hensley's plan is to truck freight from northern Mexico to fly out of U.S. airports.
Mexico is a country on the rise – and the airfreight industry knows it. American is looking at Mexico-Seoul service. A few years ago, Lufthansa was flying two freighters into Mexico; now that number has tripled.
"Investments in Mexico are very strong, and they are bound to grow," Fischer says. "We want to be there also to offer air cargo capacity and services as it comes."
July 26th, 2013
When NAFTA was first implemented in the early 1990s, the fear was that Mexican manufacturing would cost the U.S. jobs and wreak havoc upon U.S. industry. Mexico was viewed largely as an economic competitor that would pilfer U.S. employment opportunities, businesses, and bring about the demise of national economic prosperity. This set of assumptions was merely the result of a misconception of the nature of the U.S.-Mexico industrial alliance.
In reality, China has been a much more formidable concern in terms of low wages and competition for industry stateside. The past decade, however, has amply shown that the best way for U.S. industry to meet this challenge is partnership – not competition – with Mexico through production sharing, or vertical specialization, which occurs when two or more countries bilaterally produce a product. In other words, Mexican manufacturing firms rely upon materials produced by U.S. suppliers. The geographic proximity of Mexico and the U.S. has actually led to greater opportunities for U.S. suppliers vs. China. This is demonstrated by the fact that Mexican imports contain ten times more U.S. content than similar items manufactured by the Chinese. In fact, 40% of the United States' imports from Mexico contain material inputs that originated in the United States.
Thus we see that "near-sourcing" manufacturing jobs to Mexico is, in a palpable way, beneficial to U.S. industry, fostering a partnership that keeps high paying jobs in the U.S. and sustains a demand for suppliers to feed the manufacturing done in Mexico that will then be exported, in most instances, back to the U.S.. This partnership results in products that, when sitting on shelves next to those produced in China and other developing countries such as India, Brazil, Indonesia, Vietnam and Malaysia, are price competitive.
With the aforementioned in mind, it is no surprise that one in twenty-four U.S. jobs is dependent on the Mexican maquiladora industry. Over 6 million U.S. jobs are dedicated to supplying manufacturing operations in Mexico, which means there is significant opportunity for U.S. suppliers to expand to meet the demand created by Mexican manufacturing activities.
Four segments in particular presently stand out as unique growth opportunities for U.S. industry:
In 2011, the Mexican automotive industry achieved a growth rate of thirteen percent. As a result, the demand for U.S. made parts and supplies is on the rise – these include items such as spare and replacement parts for gasoline and diesel engines, electrical parts, collision repair parts, gear boxes, drive axles, catalytic converters, and steering wheel assemblies, for example.
In 2010 alone, Mexico imported approximately $3.5 billion worth of products for the manufacturing of medical devices, $2 billion of which were from U.S. suppliers. Key opportunities for medical products suppliers include anesthesia equipment, defibrillators, electrocardiographs, electro surgery equipment, incubators, lasers for surgery, etc.
Total Mexican packaging production reached 9.1 million tons of containers and materials in 2010 for a value of $10.1 billion, of which $2.5 billion came from U.S. industry. There is significant growth potential for U.S. suppliers of metal, plastics, glass, wood, and cardboard packaging materials.
$1.4 billion was invested in plastics manufacturing in Mexico in 2011, revealing a steady rise in the demand for plastic materials and resins. Additionally, Mexico exports Ethylene and imports Polyethylene, which shows the opportunity for U.S. industry to supply polymerization technology.
Mexican manufacturing, although this may be counter intuitive to some, should be viewed as a partner to the U.S., rather than exclusively as a competitor.
K. Alan Russell
President and C.E.O.
The Tecma Group of Companies
2000 Wyoming Avenue
El Paso, Texas 79903
Phone: 915 . 534.4252
Fax: 915 . 534.0205
E-Mail: Alan@Tecma.com
www.Tecma.com
Our Mission: "To create an environment where our clients and employees never want to leave us."
July 7th, 2013

July 3rd, 2013
Manufacturing in Mexico will increasingly offer cost advantages over manufacturing in China and other major economies, according to new research by The Boston Consulting Group (BCG), which foresees manufacturing adding $20 billion to $60 billion in output to Mexico's economy annually within the next five years.
The group said that, with the North America Free Trade Agreement (NAFTA), U.S. manufacturers of components for finished goods assembled in Mexico also stand to benefit.
The group said Mexico's improving competitive edge is driven by relatively low labor costs and shorter supply chains, which results from Mexico's closer proximity to U.S. markets.
Mexico also has an important advantage in its 44 free-trade agreements, which allow many of its exports to go into major economies with few or no duties. Mexico has more free-trade agreements than any other nation.
The group pointed to tipping point that was reached in 2012. It was then that the average manufacturing cost in Mexico, adjusted for productivity, became less than the costs in China. BCG projects that, by 2015, average total manufacturing costs in Mexico could be about 6% less than in China and 20%-30% lower than in Japan, Germany, Italy, and Belgium.
"Mexico is in a strong position to be a significant winner from shifts in the global economy," said Harold L. Sirkin, a BCG senior partner. "That is good news not only for Mexico, which relies on exports for around one-third of its GDP. It's also good for America, since products made in Mexico contain four times as many U.S.-made parts, on average, as those made in China."
The group points to World Economic Forum research that violence and corruption are viewed as the biggest negative factors, as well as costs, from having manufacturing operations in Mexico. Another negative, the group said, is the perception that Mexico does not have sufficient skilled workers.
Despite these concerns, BCG expects global companies to continue moving manufacturing operations into Mexico–with the cost advantages of producing in Mexico convincing many companies to look for ways to mitigate the perceived risks.
"When the economics are a wash, U.S. manufacturers often keep production in the U.S.," said Michael Zinser, a BCG partner who leads the firm's manufacturing work in North America. "But when the economics are compelling, companies will invest in additional security and training to address these issues."
BCG said Mexico's labor costs look particularly competitive when factoring in its productivity differences.
By 2015, average manufacturing-labor costs in Mexico are projected to be 19% lower than in China, with its increasing wages–but Mexico is 30% lower when adjusted for output per worker.
Average electricity costs are reported to be about 4% lower in Mexico than in China. Industrial natural gas is 63% lower, on average, in Mexico.
Appliance manufacturing is one of the industries predicted to see significant production gains in Mexico in the near future, the group said. Other industries include transportation goods, computers and electronics, and machinery.
"These industries have relatively high labor content, stringent logistical requirements, and strong existing manufacturing clusters in Mexico," explained Eduardo Leon, a BCG senior partner based in Monterrey.
Due to Mexico's growing cost advantage, production in these industries could increase between 7%-19% by 2017, over and above the projected level if current growth trends remain the same, according to BCG. This could result in 300,000 to 900,000 direct manufacturing jobs in Mexico and 1.5 million to 3.5 million jobs in related services jobs.
"Companies investing in Mexico must balance the economics with the potential downsides," said Sirkin. "But the economic advantages are becoming so pronounced that global companies should include Mexico on a shortlist of locations for their next manufacturing plant."
July 1st, 2013
http://www.businessweek.com/articles/2013-06-27/four-reasons-mexico-is-becoming-a-global-manufacturing-power
Mexico is beginning to beat China as a manufacturing base for many companies despite its higher crime rate, according to a new report from Boston Consulting Group. Mexico's gain is a plus for the U.S. because Mexican factories use four times as many American-made components as Chinese factories do, says the consulting firm. Here are Mexico's four key advantages:
1. Manufacturing wages, adjusted for Mexico's superior worker productivity, are likely to be 30 percent lower than in China by 2015. China's wages have soared. They were about one-quarter as high as Mexico's in 2000 but are catching up rapidly and will be slightly higher by 2015. And labor productivity remains higher in Mexico, even though the gap is narrowing. The crossover point was 2012, when unit labor costs in China (i.e., wages adjusted for productivity) grew to equal those in Mexico. By 2015, Mexico will be around 29 percent less expensive.
2. Mexico has more free-trade agreements than any other country. The North American Free Trade Agreement gives Mexican goods easy access to the world's largest market, the U.S., as well as to Canada. But that's not all. Mexico has free-trade agreements covering 44 countries. That's more than the U.S. (20 partners) and China (18) combined.
3. Mexican manufacturing has a significant advantage in energy costs. Natural gas prices in Mexico are tied to those of the U.S., which are exceptionally low because of a glut of supply on the market. China pays from 50 percent to 170 percent more for industrial natural gas. Mexico also has an edge over China in electricity costs, although power isn't as cheap in Mexico as in the U.S.
4. Industry clusters, especially in autos and appliances, are growing. Mexico has developed a national expertise in certain industries, which makes it more attractive for companies to locate or expand plants there. Because Mexico is a major auto manufacturer, 89 of the world's top 100 auto parts makers have production in the country. The companies are concentrated in five Mexican states, reducing transportation costs. In appliances, more than 70 manufacturers are in the country, ranging from components makers to assemblers of both small and large appliances.
Mexico's progress relative to China is major good news for the country because manufacturing accounts for 35 percent of Mexico's gross domestic product (vs. 12 percent of U.S. GDP), Harold Sirkin, the report's lead author, says in an interview. The U.S. benefits in two ways, he says. First, by selling more components to Mexican manufacturers. Second, by selling more consumer products, such as American-made beef, to Mexicans, who will have more money for imported products if their living standards rise.